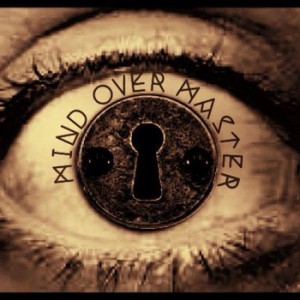 I haven't seen Mind Over Master live yet, but their name keeps popping up everywhere.  A visit to their bandcamp page explains why; this New Haven power trio's gritty rock n roll stands out from the pack, combining surf, stoner metal, and classic punk influences — and that's just in the first two tracks.  Their 2013 album Disbelief System has a Krampus anthem and a song inspired by Stephen King… So I figured they'd be willing to answer some less-than-serious-journalism interview questions.  Here's what Wiott, Matt, and Brian had to tell us about chicken wings, chicken tattoos, and more:

Alternative Control: Favorite place to get wings?
Wiott: I usually get wings at the Frog Pond in Stratford. Matt doesn't eat meat and Brian doesn't care for wings, somehow.
AC: Favorite venue you've played?
Wiott: We had the honor to play Dewey's in Seymour ONCE  before it closed, and it was an amazing show. We met Illface that night and that's a friendship that lasts to this day. Currently we would have to say Anna Liffey's and Cherry Street Station are our favorites. We always manage to have a good time at those spots.
AC: If Mind Over Master could tour a foreign country or countries, where would you go?
Wiott: Brian is from Argentina so we would love to tour that. They know their heavy music down there too! I really want to do the UK. Matt would play a Liberian Ebola hospital if they gave him enough beer.
Matt: It would have to be REALLY good beer though
AC: What touristy shit would you do there?
Wiott: We would see the glaciers in Argentina and Stonehenge in England. We would get both Ebola and drunk while in Liberia.
Matt: I wouldn't mind seeing some ancient ruins of some long gone civilization, so I guess there'd HAVE to be beer too.
AC: Who would you tour with?
Wiott: The Argentine tour would be with Los Antiguos, Manthrass, Ararat, and Dragonauta.  The UK tour would be Orange Goblin, Uncle Acid and the Deadbeats, the Melvins, and Black Sabbath.
Matt: I was gonna say GG Allin, but he's dead, so that's never happening.
AC: What's the weirdest tattoo sported by a band member?
Wiott: I have no shame and do not know the meaning of "good taste."
Matt: He doesn't.
Wiott: So I have a nunchaku brandishing, badass rooster, under which bears the legend: "Action Cock."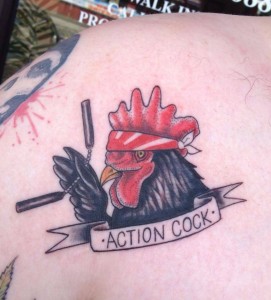 AC: If you could get rid of one state in the United States, what would it be and why?
Wiott: New Jersey.
Matt: Connecticut, shit's too damn expensive here!!!
Brian: Ohio.
AC: Tell me about the most fun show you ever played.
Wiott: The most fun show ever was on July 11th, 2014. It was a birthday show at Cherry Street Station for my girlfriend, SugarBean Tattooer. It was the greatest party that we can't remember and there were tacos! We would love to tell you more about it but we reserve the right to not incriminate ourselves.
AC: How about the worst train-wreck show?
Wiott: We really thought about this, and the fact is, no show we have played thus far has ever really gotten off the rails bad enough to be a total wash. We have shows that we wish would have gone better than they did, but nothing has ever just gotten totally fucked. There was one show we did in the beginning where they bumped us back an hour and we filled every minute of that extra time with beer. By the time we started playing, I forgot most of the lyrics and had chemically unlearned how to play the guitar. It was a rough one, but not a train wreck.
AC: What books are you reading?
Brian: Ghost Rider.
Matt: Red Dead Redemption. Who needs books when you have video games?
Wiott: I'm an avid reader, but I barely have time to read the label on a whiskey bottle these days. When I have the time, though, I enjoy Stephen King and re-re-rereading Tolkien's books.
AC: What question do we wish we asked?
Wiott: What is the air speed velocity of an unladen swallow?
Catch Mind Over Master at one of their upcoming shows:
8/21 w/ Hepatgua and more at Raplh's Rock Diner in Worcester, MA
8/29 w/ Ogre (ME) and VRSA at Three Sheets in New Haven
9/5 w/ Goat Herder, Jimmy Junk Bird and the Stiffs, God's Middle Finger, and PUS at Cook's Cafe in Naugatuck
9/21 w/ City of Iron, Buzzard Canyon, Stikpin, and Insano Vision at Cherry Street Station in Wallingford