By Charlie Sad Eyes
Connecticut doom outfit Mourn The Light has done a lot in less than three years of existence: toured America, played a string of dates in Canada, and amassed a large social media following, all on the strength of an EP, a split CD with Oxblood Forge, and some singles… All while managing the band member shuffle.
The momentum continues this month as MTL prepares to release their debut full-length Suffer, Then We're Gone.  Recorded at Connecticut hot-spot Studio Wormwood with producer Dave Kaminsky, the band greatly expands from their trad and doom metal beginnings and offers more variety than expected.
Eschewing the typical Big Spooky Intro trope, MTL gets right to business with opener "When The Fear Subsides." Sad acoustic guitar and vocals start the album before launching into a foreboding doom progression Leif Edling himself would admire. Doom is a genre where homage is appreciated, and MTL's love of Candlemass and NWOBHM is not hidden in these tracks. But moving forward, longtime listeners will find some surprises. Case in point: the dirge morphs into a Maidenesque chorus before plummeting into classical acoustic guitar and 70s organ (supplied by Alex Newton from Dzo-Nga) in the bridge. Lead guitarist Dwayne Eldredge brings 1982 England back with a dual harmony solo. This ride will not go as planned.
In keeping with its era of influence, the 80s-inspired songs are given a somewhat 90s sensibility: Kaminsky understands that neither faux-Fostex low-fi nor modern melodyne shine will benefit the material, and allows a clean-yet-vintage production to display the songs as they were intended.
"I Bare The Scars" headbangs with one-foot-on-the-monitor machine-gun NWOBHM before time-shifting in the bridge. Let's talk rhythm section: drummer Kyle Knight is substance over flash, providing a steady backbone to each song and never drifting into the excesses that plague a lot of metal. Coupled with that ineffable Wormwood drum sound, he does what good drummers do: keep everything together. And there's a lot to keep together here. Bassist Bill Herrick does more than fill the space between the drums and guitars; he rarely follows the riffs but instead weaves around them with interesting runs and fills. He shines most in the bridges and outros. The bass playing is a true highlight of this release.
Expectations shift again with "Take Your Pain Away," a song that could be the theme for a 2020 remake of Lorenzo Lamas' "Renegade." We've swung from European stadiums to pure Americana. Things get weirder still as Dillinger Escape Plan dissonance appears in the moshworthy bridge.
The one constant is Andrew Stachelek's vocals. The genre is rife with high-pitch Ozzy attempts and nasal falsetto, but Stachelek sticks to a baritone range that complements the gloomy subject matter. Though most of this album would not be what you'd call "doom," the lyrical content keeps it strongly rooted in that most despairing of metal niches. If you focus on the lyrics, you will need a Xanax when it's over — but the musical variety does not place it in trad doom territory. Andrew enters left field in the title track where he vents some admirable black metal screaming.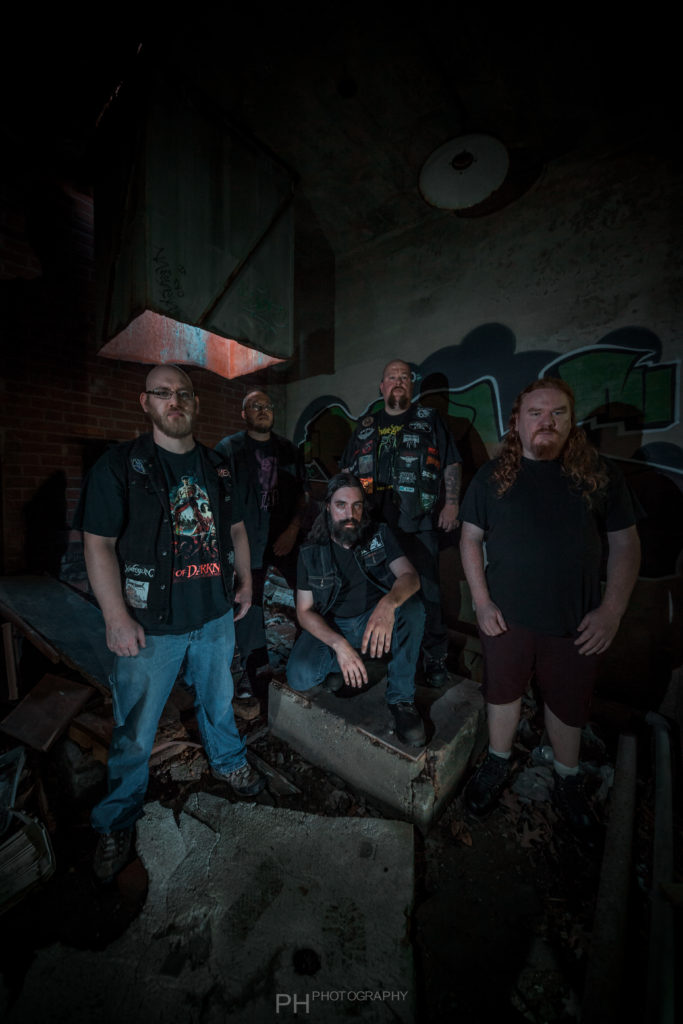 "Refuse To Fall" sounds like a set-opener for a Wacken appearance, followed by the straight forward headbanger "Progeny Of Pain," in which the astute listener may pick up a subtle Carcass homage.
The trajectory changes again on "Wisdom Bestowed," starting with a middle-eastern scale guitar lead. Dwayne has stepped up in the guitar department, having outsourced leads in the past to the likes of Mike Kerr from Firstbourne. Gaining his own solo confidence, Dwayne nods to Chuck Schuldiner on this track, and the Death-love kicks in big time when the bass enters. More of a rhythm guy before this release, Dwayne has used the 2020 lockdown to stretch out his guitar playing, even venturing into classical acoustic passages, which I had to ask him three times if they were in fact him. The song finishes with a proggy outro that -gasp- touches on something reminiscent of The Police.
 Also present are "End Of Times" and "Blink Of An Eye," both big-chorus live mainstays. As mentioned up top, pastiche is an accepted and even celebrated element of metal, especially in the doom and traditional waters that Mourn The Light swims in. However, this album is far more diverse than most that draw from the heydays of those styles. Those elements are here: plodding Candlemass riffage and triumphant Saxon arena choruses, but between those exist rhythmic shifts, brief forays into death metal, near-Flamenco acoustic, southern rock, and the seventies occult-organ of "When The Fear Subsides."
The doom glut of the last decade has given us thousands of bands that don't step outside the Sabbath/Candlemass/St. Vitus model. Mourn The Light has not only sonically matured with this release, breaking all previous expectations, but has managed to create something different while still paying homage to the eras it celebrates.
But where's the album art?? Where is it, guys?????!
Here it is! Created by Brouemaster Visual Decay, who also made the artwork for "When Fear Subsides." Happy Halloween!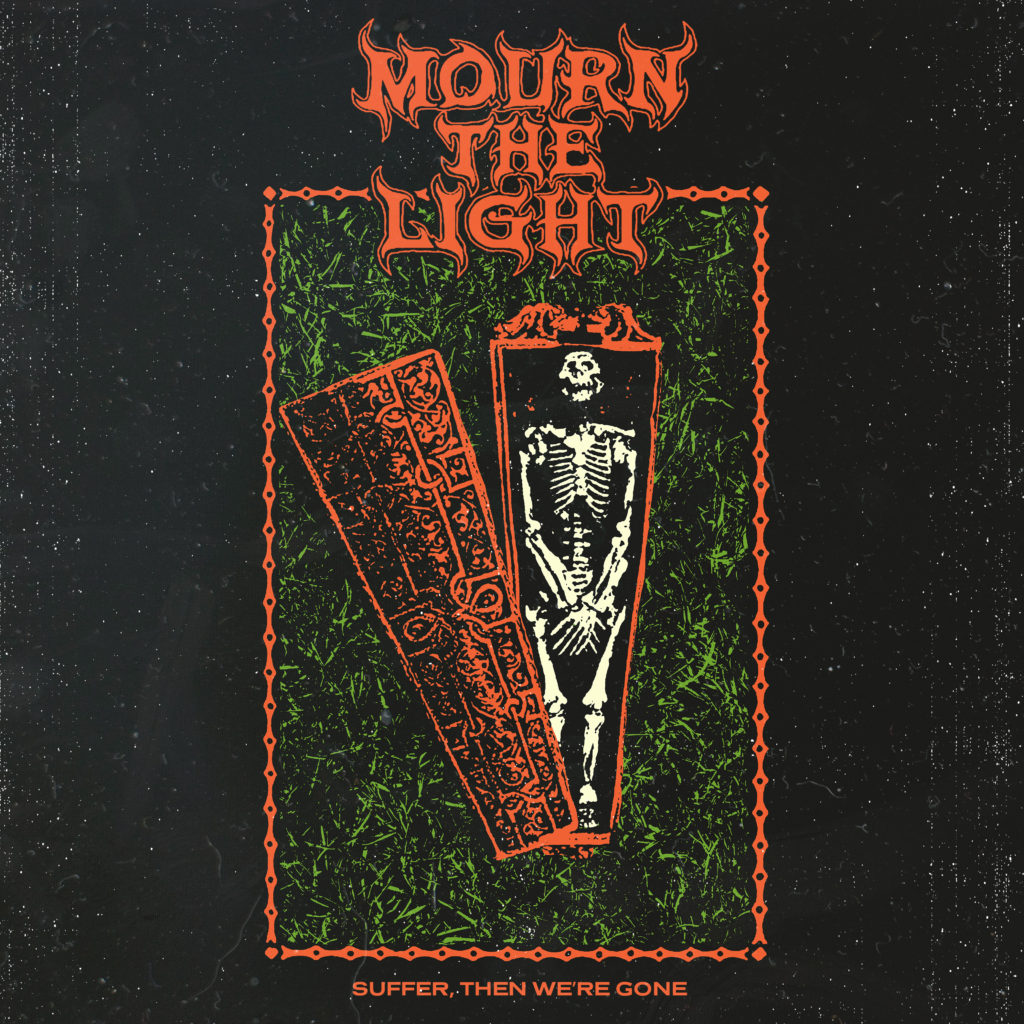 Band Photo by Patrick Hennessey
Suffer, Then We're Gone release date TBA. Follow Mourn the Light on Facebook and bandcamp for updates!
---
For more from Alternative Control, find us on Facebook, Twitter, Instagram, Soundcloud, and bandcamp. Plus, follow our 2020 coverage playlist on Spotify!
Enjoying our content? Support the site on Ko-fi and Patreon!