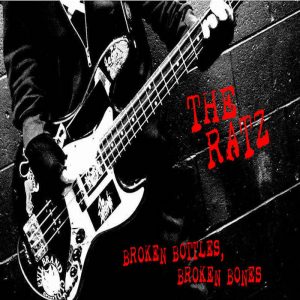 The album Broken Bottles, Broken Bones is completely raw jams, with definitive tones of the presumed-dead punk rock of the early 80s. In these uninhibited short anthems, I can taste a little Bad Brains, a touch of Ramones and a slathering Sex Pistols. Fuck you Johnny London, Donald Trump sucks!!
The Ratz formed in mid-2016, in the shadow of the members' current band The Lost Riots.  Influences of their previous groups, The Danglers and Elvis McMan, are just under the surface as well.
The Tracks
"From the Sewer to the Streets" — The Ratz give it to you hard and fast without asking for seconds in this opener that clocks in at just over a minute. The pure energy captured at Bonehead Studio transcends the three cord limitations. It's Punk Rock, pure soulful Punk Rock, and it has been a hot second since I had the pleasure of reviewing something that both fits and breaks the mold.
"I'm Fucked" — An acknowledgement of our own limitations from drinking and getting fucked up. The line "I'm growing colder, don't know where I've been cuz I'm doing heroin" rings true to my ears as the epidemic has affected everyone including myself (five years sober now).  "I'm Fucked" is exactly how I felt.
"These Streets — "These streets don't feel like home, I just wanna go home": these are the words we all repeat when leaving the bars at closing time, stumbling through the grabby hands and leering eyes. This album is the answer to Connecticut's lacking punk rock scene.
"Whores" — Obviously I relate to this track. "I'm a fucking whore!" feels like that back stroke through my old Black Flag albums, fleeting memories of when I wasn't a whore. My favorite track off of Broken Bottle, Broken Bones. 
"You're Cool" — This song is the pin to your ego bubble and sends the jam right up your spine. All to the beat of one, two, three of thundering drums courtesy of Elvis Belushi.
"Queen of Chaos" — This is the longest track on the CD, "burning bridges she crosses" with a solid breakdown for the obligatory circle pit halfway through.
"Jackie O" — Drink!! Drive!! Drink!! Drive!! I could put this on repeat for that long drive home after partying out after a show. "Jackie O" kills it with the fast pace and the relentless chant of Drink!! Drive!! Drink!! Drive!!
"I Don't Care" — A nihilistic short hump to thrust chant, short and blistering.
"Broken Bottle" — The track rips right through the musical sensibilities, with seriously reprehensible lyrics: "Gun in the hand and a needle in the arm. I'm gonna cause you serious harm. "I'll mess you up with a broken bottle. I'll make you wish there was no tomorrow."
"Lisa" – The final track has the feel of regret and loss… A theme we all know, mainly because our lives are suffering incarnate.
The Ratz truly bring it back to the old school; they have the potential to expand on this release and make a real impact in the music scene in New England.
The Ratz are made up of these three lunatics:
Jeffrey Thunders – Guitar/Vox
Matt Injection – Bass/Vox
Elvis Belushi – Drums/Vox
Broken Bottles, Broken Bones, via Die Hipster Records, is the band's first release. It was recorded in Cheshire, Connecticut at Bonehead Studio in late 2016 – early 2017. Released in March 2017, the album is available digitally as well as compact disc. Get it at www.theratz.bandcamp.com.
The Ratz are currently playing shows throughout Connecticut and have a split 7″ in the pipe lines with The Baby Sandwiches from Staten Island, New York on Xiao Wrecks Records.
www.diehipsterrecords.tumblr.com
https://www.facebook.com/againstalloddsproductionsct
For more from Alternative Control, find us on Facebook, Twitter, Instagram, Soundcloud, and bandcamp.