My first exposure to death metal, in late 1994/early 1995, came via Obituary's World Demise and Symbolic from Death.  Both albums turned me on to the genre but it wasn't until I discovered Entombed that it fully clicked.  Left Hand Path changed my outlook on heavy music and I fully bought in to what the Swedish scene had to offer.  Even now, in 2020, I still gravitate towards newer bands from the same locale, still soaked in HM-2 grime.  When the new Desolator release hit my desk with a press release mentioning the words "Stockholm" and "buzzsaw" my musical libido was at full attention.  42 minutes later I was smiling from ear to ear but not for reasons I expected.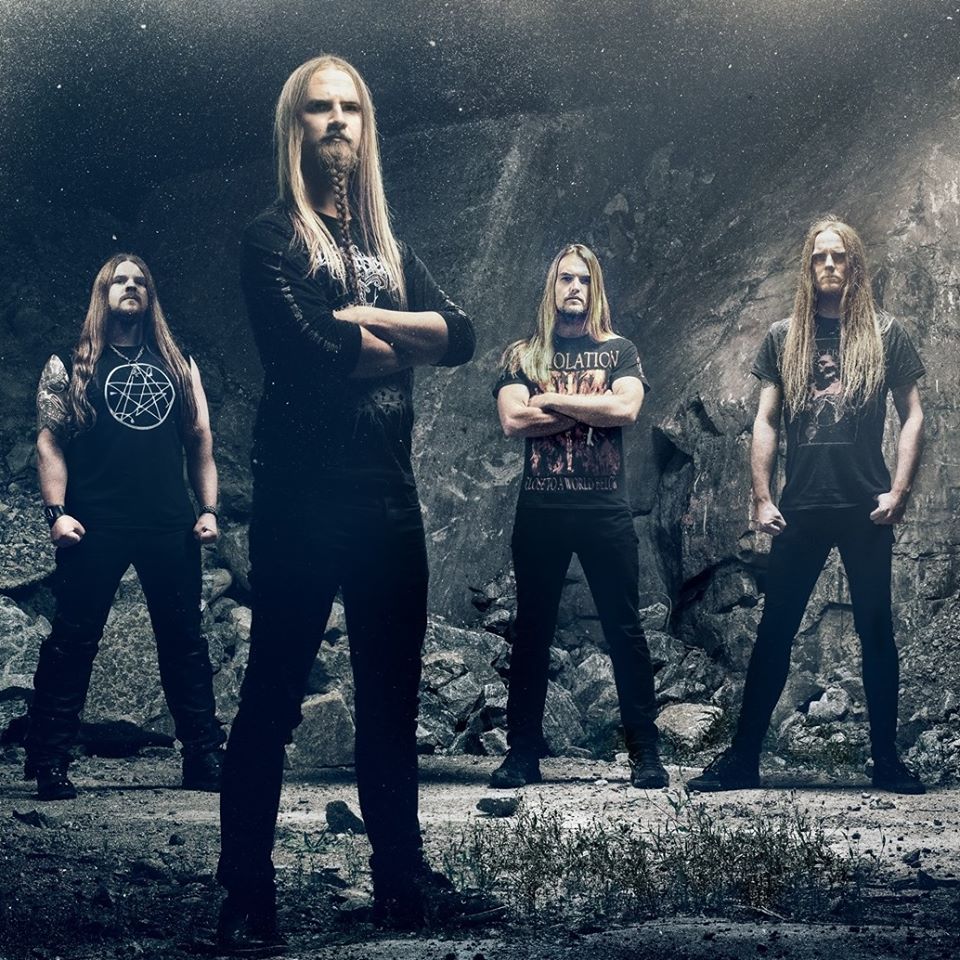 Desolator may be from Sweden and their early work is very akin to the Big [Swedish] 4: Entombed, Grave, Dismember, and Unleashed. As they have moved forward and matured, Desolator have forged their own path, developing a style of death metal that incorporates elements of dissonance, atmosphere, and technical arrangement along with the never-ending barrage of riffs every band from Scandinavia seems to have in surplus. Also – no HM-2 pedals set to 12 [audible sigh].
Sermon of Apathy, set for release on September 4th from Black Lion Records, contains seven songs of aural brutality.  Kicking off with "Portal Tomb," this four-piece wastes no time slinging riffs like cheap whiskey at your corner watering hole.  Built on a backbone of Victor Parri's drumming, the band shifts between blasts and half-time sections effortlessly.  As the album moves on I was more and more impressed with Parri's ability to keep his parts on point. 
Guitar players Stafan Nordström and Joakim Rudemyr are center stage through most of the album and have developed something of a signature style with one part hammering along with the drums and a second part playing space-y, echoing, single-note lines that draw the listener away only to have the two lock up and pull you back down into the bludgeoning zone.  "Portal Tomb" crashes into "Adversarial Doctrine" and "Creatures of Habit."  Bassist Jonas Bergkvist gets some solid treatment as the bass is mixed perfectly with the guitars.  Not too loud, not buried Bergkvist's thunder gun throws heavy lead all over these tunes.  As a bass player, I can appreciate the band allowing that part of the sonic pallet to come through.
With no song clocking in at less than 4:08, Sermon of Apathy definitely sits on the edge of progressive death metal from the arrangement aspect.  Track 4, "Methods of Self-Deception," is a tour de force of every element Desolator brings to the table. A clean, echo-y intro morphs into mid-paced sledgehammers with that ever-present crushing back beat.  Nile's Karl Sanders gets in on the party on the final track, "The Great Law of the Dead."  Almost nine minutes of rollercoaster action, "The Great Law…" closes this splatter platter in grand fashion.
As a death metal fan, especially of the old-school Swedish material, I went into this record hoping it was a tribute to those bands I learned to love.  I was pleasantly disappointed and I find myself going back over and over again to take in what these dudes have to offer.  If you like old-school but find the production lacking – check this out.  If you are a tech-head but want to put a little groove into your polyrhythm – check this out.  Still no HM-2 but it can't be *perfect*.
For more from Alternative Control, find us on Facebook, Twitter, Instagram, Soundcloud, and bandcamp.  Plus, follow our 2020 coverage playlist on Spotify!
Enjoying our content? Support the site on Ko-fi and Patreon! A little bird told me the "download code" reward tiers are really awesome…