My propensity for writing introductions has declined in old age, so let's just launch right into it…  Virginia rockers Valkyrie are releasing their fourth album on July 24th, 2020, once again via Relapse Records.  If you liked Shadows, you'll certainly be purchasing Fear— with the Adams brothers on dueling guitars and the same rhythm section from Shadows, this new album serves up everything fans love about Valkyrie.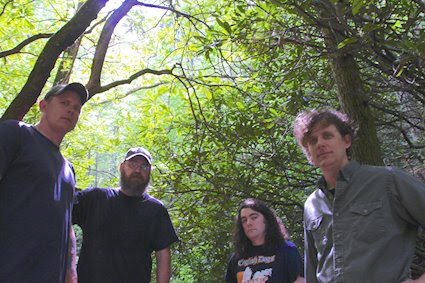 It's hard to tell if there is philosophical theme uniting the album because Valkyrie's music is mostly instrumental. But if I had to make a wild guess based on the song titles, album title, and cover art, I'd say this album is about the fear of aging and death. I mean, the artwork is an old guy with a freakin' Grim Reaper sickle, so I'm not too out of line here, right? Plus crows, a broken hour glass… You've been "Afraid to Live" for so long, but now you're out of time!
Luckily for listeners, Valkyrie's riffs never get old.  Thin Lizzy is often noted as an inspiration for the band's guitar work, but brothers Jake and Pete Adams have created a proto-metal-meets-southern-rock sound that's all their own.  Plus, Alan Fary's bass tone on this album is just amazing — it's like a giant hand grabbing you.  Check out the bridge/outro of "Brings You Down" and you'll hear exactly what I mean.  And of course, the songs are  driven at a (mostly) careening pace by drummer Warren Hawkins.  If these guys are trying to outrun death with their riffs, they might have a fighting chance.
Preorder Fear in all your favorite flavors here.
For more from Alternative Control, find us on Facebook, Twitter, Instagram, Soundcloud, and bandcamp. Plus, follow our 2020 coverage playlist on Spotify!
Enjoying our content? Support the site on Patreon!