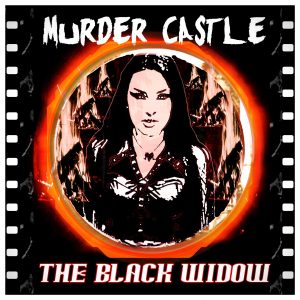 The Connecticut metal scene never says die, even if occasional posts in local community groups by certain individuals try to say it's already dead and buried. True things have changed over time as venues close and musicians 'grow up,' but nothing is over in the Constitution State. For proof, look no further than The Black Widow, the upcoming third release by Connecticut/Virginia based Murder Castle, who have been putting in work since 2012.
Lyrically based on a female serial killer and a detective who steadily falls for her and he attempts to bring her to justice, The Black Widow further ties in modern day concepts of discrimination and the darkness within society. Blending powerful vocals reminiscent of Cathedral with textures of Crowbar, Murder Castle is a testament to a smaller but more creative Connecticut metal scene.
As the album's lead single, "Clarity" is chock full of hypnotic groove riffs akin to tracks off Satyricon's "The Age of Nero" with a bit more on doom than black metal. In contrast, "Kiss of Poison" brings to mind the work of the mighty Corrosion of Conformity through the swift drum work of William Buckley under winding passages delivered by vocalist/guitarist Bill Kaos and bassist Paul Loew.
For those seeking intensity, Murder Castle presents to you the perfect offering on "Bonesaw Laceration," a tip of the hat of sorts to the early works of Mastodon in terms of heaviness. Likewise, for more traditional doom fans, "Sabotage of the Predator" slows things down for a dirgey trek through sludgy waters.
Some may feel that there is a risk associated with concept albums in that it can be difficult to prevent the concept from insisting too much on itself. At the same time, it would be a disservice to not stress the story enough so it becomes lost and listeners forget it is even there. Murder Castle finds a solid place in between by delegating major parts of the story to specific tracks, namely the appropriately titled "Narration from the Detective," "Bloodspattered Outroduction," and the two parts of the title track. As a result, the story is still present without being too overbearing, allowing the rest of the album to speak and breathe for itself.
Bottom line: The Black Widow delivers a fresh cut of doomy, groovy heaviness that fans of the genre crave so much. Overshadowed for many years by what was current in the local scene, it is exciting to see a resurgence of doom metal bands and a new appreciation for the genre in the northeast. Visit the Murder Castle Bandcamp to hear the first singles and to preorder your copy of The Black Widow!
For more from Alternative Control, find us on Facebook, Twitter, Instagram, Soundcloud, and bandcamp.  Join our mailing list here.