The world is a strange place as of this writing, full of uncertainties new to some and strangely familiar to many others. It is with this background of isolation, anxiety, and flickering hope that legendary doom metal titans My Dying Bride release unto the world The Ghost of Orion, their fourteenth album and first offering in nearly five years. 
From the opening notes of "Your Broken Shore," there is no mistaking the signature sound of My Dying Bride, albeit more polished and better produced than ever. What I find makes a doom metal album exceptional is its ability to allow for the listener to sit and think as it plays. Much like classical music, there may be one or two songs that stand out, but the best feeling is when time just passes as you listen, but does not drag. 
Vocals take a center point throughout the album, but not in the traditional sense. Vocalist Aaron Stainthorpe dials back his time at the microphone, delivering just the right amount of mournful cleans in "The Long Black Land" and pained screams in "The Old Earth." The title track goes so far as to place the vocal tracks in the background, making them sound like a ghost confessing its woe to the world. 
The polished production and mixing of the album allows each individual layer to stand out and for the music to set the mood. An excellent demonstration of this can be found on "The Solace," through droning guitars accompanied only by the haunting vocals of guest vocalist Lindy Fay Hella of Wardruna. In keeping with My Dying Bride Tradition, keyboardist Shaun Macgowen provides serene violin melodies over the biting instrumentation of Lena Abe, Andrew Craighan, and Jeff Singer, bass/guitar/drums respectively. 
The final track "Your Woven Shore," is the first time over a thirty year career that My Dying Bride has concluded an album with an instrumental song. Interestingly, and probably intentionally, the song flows seamlessly back into the similarly titled opener "Your Broken Shore," something I appreciate as an avid buyer of CDs. It's as though there is really no beginning or end to the album, only the constant feeling of cold, cloudy shores with a lighthouse in the distance, or empty city streets with blinking yellow traffic lights guiding your way. 
Bottom line: I confess I have adored all things My Dying Bride since I first heard A Line of Deathless Kings upon its release in 2006. I was delighted to hear the balance of vocals to instruments, which I feel can make or break a gothic doom album. There is also nothing that insists upon itself with this album: no glorification of suicide or eternal depression that doom metal is, appropriately, associated with. I dare say even listeners of generally atmospheric music, such as Sigur Ros, would appreciate this album, even if they do not consider themselves metal fans.
We at Alternative Control CT remind you to stay safe out there and respect social distancing, but you can still call or shop online at your favorite record store and have a copy of The Ghost of Orion delivered right to your front door!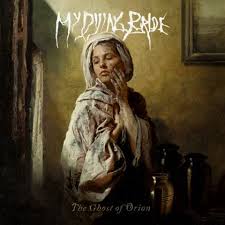 For more from Alternative Control, find us on Facebook, Twitter, Instagram, Soundcloud, and bandcamp.  Plus, follow our 2020 coverage playlist on Spotify to hear My Dying Bride and many more!