By Mark Partin
Back in 2007, drummer Nickolas Zinn and vocalist Nate Tyson put their superb talents together and formed the band WITCH HAZEL.  Stellar guitarist Andy Craven and bassist Seibert Lowe now complete the quartet. Toiling hard, they self-released 3 albums: Forsaken Remedies (2012), Nocturnity (2015), and Otherworldly (2018) — which all caught the eyes and ears of the underground proto-metal/doom crowd. 
The guys decided they wanted to change the name of the band to SpellBook (lot of bands with "Witch" in the name and avoid any more confusion) before the Otherwordly release, but they opted instead to wait for their label debut album Magick & Mischief which is up for preorder now and being released worldwide on Sept 25th by Cruz del Sur Music.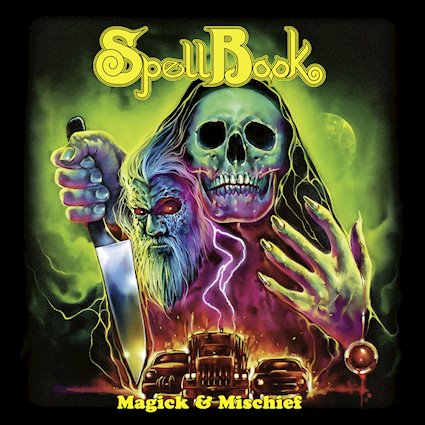 "Eleven years named one thing wasn't easy to get past, but we realized to take this to the next step it was necessary," says Zinn in a previous interview. "We liked the idea of having the song 'The SpellBook' from Forsaken Remedies being the representing name that ties the past, present and future together. We're very proud of our past, though, and plan to still play some WITCH HAZEL songs live, especially those from Otherworldly."
Calling York, Pennsylvania home, they embarked on the writing and recording journey that brings us here to Magick & Mischief. As with all three of the previous albums, the writing rules were as follows: "No rules." The result….. This monster of a release that sees them attacking and conquering the vintage heavy rock and doomy classic metal path of past, but totally making it into their own.
While influences from Black Sabbath, Blue Oyster Cult, Pentagram and Deep Purple are deeply ingrained in the music, SpellBook still pulls off a distinctive sound.  This is a special album you going to hear, talented musicians bringing top notch music and lyrics that filled with emotion. "Ominous Skies" and "Wands to the Sky" roped and tied the proto metal sound big time.  "Amulet" has been a staple of the live sets and a crowd favorite even before being put down on tape. 
Not yet mentioned is the absolute big time album artwork created and translated into the band's music by Chad Smith.  This classic yet cleverly imagined  art is as special as the album.  Just epic.
Run don't walk and grab Magick & Mischief, everyone else will be……   The only bad thing about this album is that ends…..
Preorder at the links below!
CD: https://tinyurl.com/y8jblwc9
LP: https://tinyurl.com/yaawkc4o
Bandcamp: https://spellbookband.bandcamp.com/album/magick-mischief
---
For more from Alternative Control, find us on Facebook, Twitter, Instagram, Soundcloud, and bandcamp. Plus, follow our 2020 coverage playlist on Spotify!
Enjoying our content? Support the site on Ko-fi and Patreon!