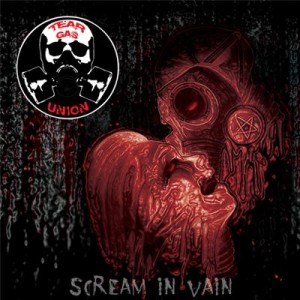 Torrington's Tear Gas Union released their debut album this month, Scream in Vain. The full-length features eight tracks of hard-hitting, 80s-style metal in the "vain" of Judas Priest and Dio, with moments of Black Sabbath and Motorhead thrown in for good measure.
The album had its ups and downs for me. I could have done without the intro (high-pitched noises and a guy saying weird stuff), and the second track felt about a minute too long. But as I got further in, some gems were revealed. "Dead Horse" is a high-energy ripper, and "Voices from the Grave" is a pounding Sabbath nod. The closing track "Dementia" is actually about dementia – a topic I've never heard addressed in a metal song, and a challenging one to take on.
While Tear Gas Union's current incarnation is relatively new to "the scene," the members have been playing metal for decades. Bassist Rich Flint and guitarist Jesse Piechowski first started jamming together in the band Atrocity, which was active from 1985-1993 and then reunited from 2006-2009. Drummer Pete Fratta has toured Europe and the states with various bands, and vocalist Ray Smith also fronts Evil Eyes (a Dio tribute) and Angry Again.
These guys aren't trying to reinvent the wheel with Scream in Vain – rather, they have put together their collective influences and years of experience to create music that's gritty, powerful, and a bit nostalgic. Old-school metalheads, you will find something you like on this album.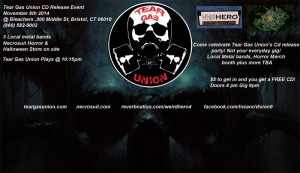 Scream in Vain is available for download on CDbaby.com.
The album release party is November 8 at Bleachers in Bristol – see the Facebook event for details.