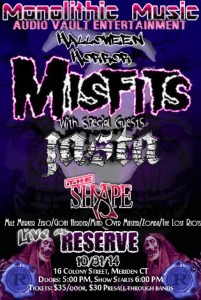 Of course Alternative Control is hosting our own awesome Halloween show.  We've got bands, homemade cookies, and even a $100 gift certificate to Park City Tattoo for the best costume of the night.  But you know what we don't have?  The Misfits.
Those iconic and litigious horror punks will play The Reserve in Meriden on Halloween, joined by an impressive roster of locals.  (Well I guess Danzig's the litigious one, right?  Shows how much I know about the Misfits.)  Featuring vocalist/bassist Jerry Only (the remaining original member), guitarist Dez Cadena, and drummer Eric "Chupacabra" Arce, this show is part of a tour that will take the Misfits to Puerto Rico the very next day, then out west, back around, and eventually to Germany right before Christmas. What luck that Connecticut "fiends" will get to see them on the creepiest night of the year!
But speaking of those locals, that's how you're going to get advance tickets. Jasta, The Shape, Mile Marker Zero, Goat Herder, Mind Over Master, Zombii, and The Lost Riots all have 'em for $30 each; if you don't know somebody who knows somebody, just message the bands or Audio Vault Entertainment on Facebook and they will deploy their armies of carrier pigeons to get tickets to you. Tickets are also available at the door the night of the show for $35, but online sales have ended.
The Reserve is located at 16 Colony Street in Meriden. Doors open at 5 and show starts at 6. For additional info, see the Facebook event.