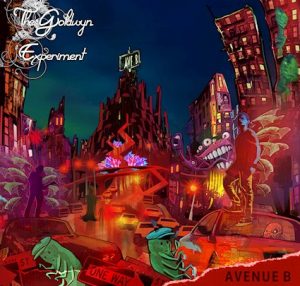 From the first seconds of opening track "Prologue," it becomes clear that The Goldwyn Experiment's Avenue B represents a musical metamorphosis for band leader Goldwyn Thandrayen.  Alternative Control reviewed Psychocide, a party pop band he fronted, in 2017 — and this new project is quite a departure.  Incorporating piano, upright, bass, and even a guest rapper, The Goldwyn Experiment isn't afraid to experiment.
What is similar to Psychocide is an undeniable, in-spite-of-yourself catchiness.  In one moment, the band has the jumpy world music feel of Gogol Bordello, and in the next someone's spitting rhymes while jazz-inspired drums trade fours with the rest of the instruments.  But no matter what avenue The Goldwyn Experiment goes down, the music is intriguing and unpredictable.
Avenue B will be released September 7th 2018 via Stash. Find The Goldwyn Experiment online to have a listen:
Website
Facebook
Twitter
Instagram
SoundCloud
Spotify
YouTube
For more from Alternative Control, find us on Facebook, Twitter, Instagram, Soundcloud, and bandcamp.
This post was sponsored by Independent Music Promotions.  All opinions are our own.