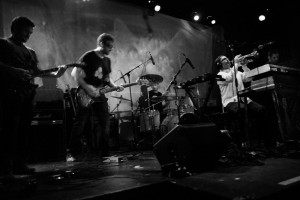 With their second album The Madrean, Los Angeles band Whale Fall presents an intelligent and multilayered instrumental work of art.  To say it's cinematic is almost obvious, and unsurprisingly several members have past soundtrack credits on projects ranging from The X-Files to The Help.
The Madrean is named after a vast desert region in the southwestern U.S. and northwestern Mexico.  It opens with "The Dawn Thief," a slow-building number that features atmospheric guitar interplay and languid trumpet lines.
Many of the songs vacillate from contemplative to larger-than-life, like "Overpass L.A."  What I thought would evoke smog and bumper-to-bumper traffic was more like desert skies and wandering coyotes, until a peyote trip kicks in full force after about three minutes.
When will Alternative Control readers listen to The Madrean?  When you need to be classy.  When you invite a new girl to the apartment.  When your family is over and you want to seem like a "real grown-up."  Or perhaps when you just want to relax and get lost in some tunes.  Whale Fall is a talented group with a lot of creative staying power.  Enjoy!
This post was sponsored by Independent Music Promotions.  All opinions are our own.