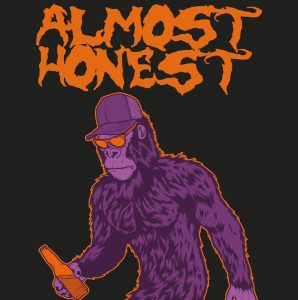 The best thing about a hobby in the blogosphere is finding cool new bands — and the worse thing is when you find one that's great and realize you just missed them when they came to your state!  But all is not lost for folks in the Midwest and Mid Atlantic Coast; Almost Honest will be driving the groove bus on a run of dates through those regions in January and February.
1/17/20 — Roanoke, VA @ The Front Row
1/18/20 — Richmond, VA @ Garden Grove Brewing
1/31/20 — Youngstown, OH @ Westside Bowl
2/1/20 — Harrisburg, PA @ HMAC
2/8/20 — Baltimore, MD @ Rituals Bar & Venue
2/28/20 — Grand Rapids, MI @ Mulligan's Pub
2/29/20 — Canton, OH @ Buzzbin
Have a listen to this Pennsylvania power trio and you'll be sold in seconds.  It's refreshing when bands don't do the same exact thing all the time!
From the PR wire:
With the release of their second full length studio album Seiches and Sirens, the groovy-sexy-Viking-funk-doom-rock trio Almost Honest have cemented themselves as a force to be reckoned with.  Born in New Cumberland, PA in 2013, these cats have been bringing energetic and memorable live performances across the east coast.  Shayne Reed lays down the thundering vocals and groovy guitar while Seth Jackson brings the funky rhythm with his bass.  Lastly Quinten Spangler is the time keeper and beat god.  Fans never leave a concert unsatisfied and with a sound as unique as Almost Honest's, who can blame them?
Almost Honest has been featured in such publications as Classic Rock Magazine, Doomed & Stoned, and The Obelisk. This doom rock group has also played with notable acts such as Revocation, Astronoid, and Moon Tooth.  These guys are the ones you will want to keep your eyeballs on because they are carving their own piece of music funkery and they want you to be a part of the ride.
Listen to Seiches and Sirens here: https://almosthonestpa.bandcamp.com/album/seiches-and-sirens-2
Connect With Almost Honest
For more from Alternative Control, find us on Facebook, Twitter, Instagram, Soundcloud, and bandcamp.  Join our mailing list here.