The legions of the dead have risen and it's too late to pray….  Tyrant is back with a vengeance and headlining Saturday May 16th's portion of the New England Stoner and Doom Festival!  They are the first headliner to be announced for the three-day event, which will be held May 15-17th 2020 at Altone's Music Hall in Jewett City, CT.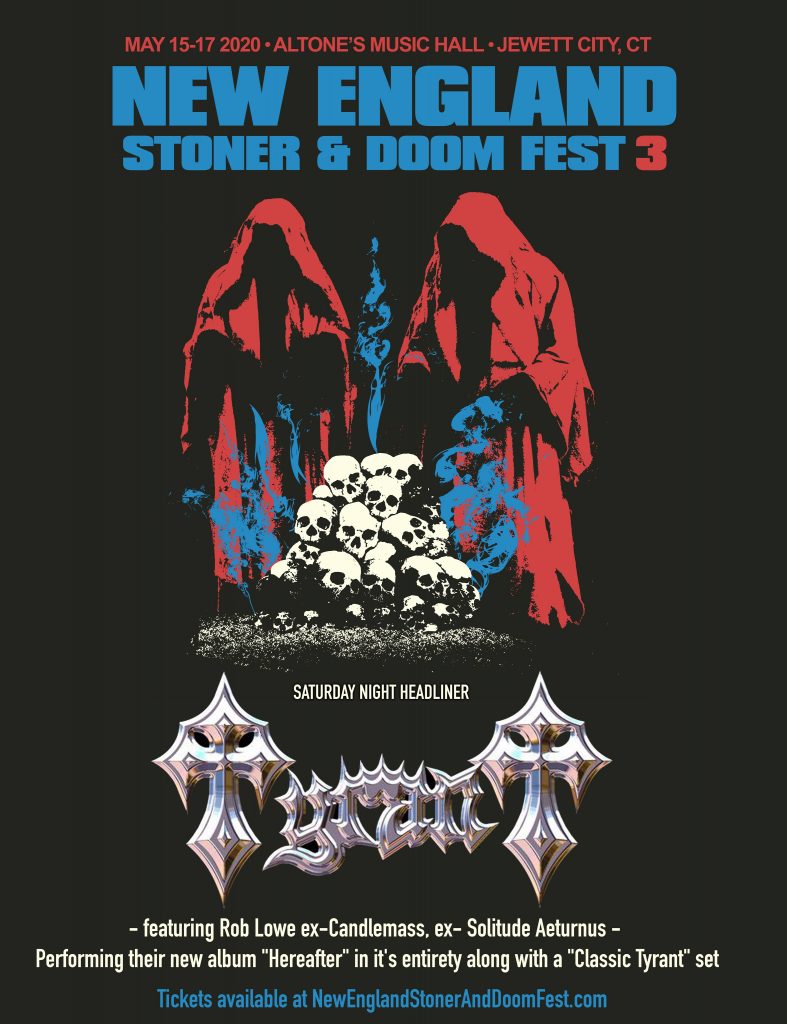 With the addition of vocalist Robert Lowe (ex-Candlemass, ex-Solitude Aeturnus), the Los Angeles-based band is expanding their sound from the Metal Blade thrash days of the 1980s.  Fans of these headbangers can expect to hear a mix of their classic material as well as new songs from their upcoming album Hereafter, which will be released via Shadow Kingdom in 2020.  Bassist and founding member Greg May says, "Tyrant can't wait to play New England Stoner and Doom Fest! It will be our first fest to play our new album in its entirety!"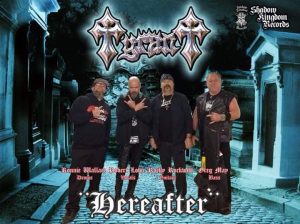 NESDF organizer Dwayne Eldredge added, "I'm really excited to have Tyrant with us for our third annual New England Stoner and Doom Fest.  They are a classic band from the heavy metal glory days and with the addition of legendary doom vocalist Rob Lowe and the support of Shadow Kingdom Records, they are going to blow some minds and destroy some stages!"
Check out Tyrant's 2019 cover of Black Sabbath's "Snowblind."
https://youtu.be/qSro0oafKXw
Eldredge and fellow fest organizer Scott Harrington are also ready to unveil the full lineup for the Thursday, May 14th pre-party at 33 Golden Street in New London.  This year, they're bringing in five bands from up and down the East Coast:
Scuzzy Yeti — This smoky proto-metal from Troy, New Hampshire will headline the night.  Their 2017 self-titled EP put them on the map, and they're taking a motorcycle ride cross country — with a stop in Jewett City, of course.

Book of Wyrms — synthy space rock from Richmond, VA.  They flew an undead pegasus into 33 Golden this summer and put on a great show that had Connecticut audiences calling them back for more.  Their entrancing sophomore album Remythologizer was released by Stoner Witch Records and Twin Giant Records in August 2019.
Eternal Black — Brooklyn doom influenced by The Obsessed and Eyehategod.  The Obelisk called their recent album Slow Burn Suicide "purposeful" with "bass as a secret weapon."  Eternal Black supported Earthride and Brimstone Coven at last year's NESDF and Connecticut fans are eager to see them again.
Dust Prophet — New Hampshire's bearers of the apocalypse were featured on Alternative Control's Volume Doom compilation in 2019.  Guess we know how to pick 'em!  Guitarist Otto Kinzel says,  "We are incredibly excited to be a part of this year's NESDF Prefest show! NESDF is a goldmine when it comes to discovering both new and upcoming bands in the Stoner/Doom genre, as well as established headlining artists that have been inspiring the scene for many, many years. We're honored to be a part of this, and I'm very passionate to see it continue its rise."
False Gods — New York sludge/doom with a silver lining of hardcore.  This heavy quintet made a couple appearances in Connecticut in 2019, at Altone's and Cherry Street Station.
Weekend passes for New England Stoner Doom Fest are available here and include free admission to the pre-party.  (It's $8 otherwise.)  Note that there are ZERO ticket fees and free parking for the fest.  Don't forget to join the Facebook event for more roster updates!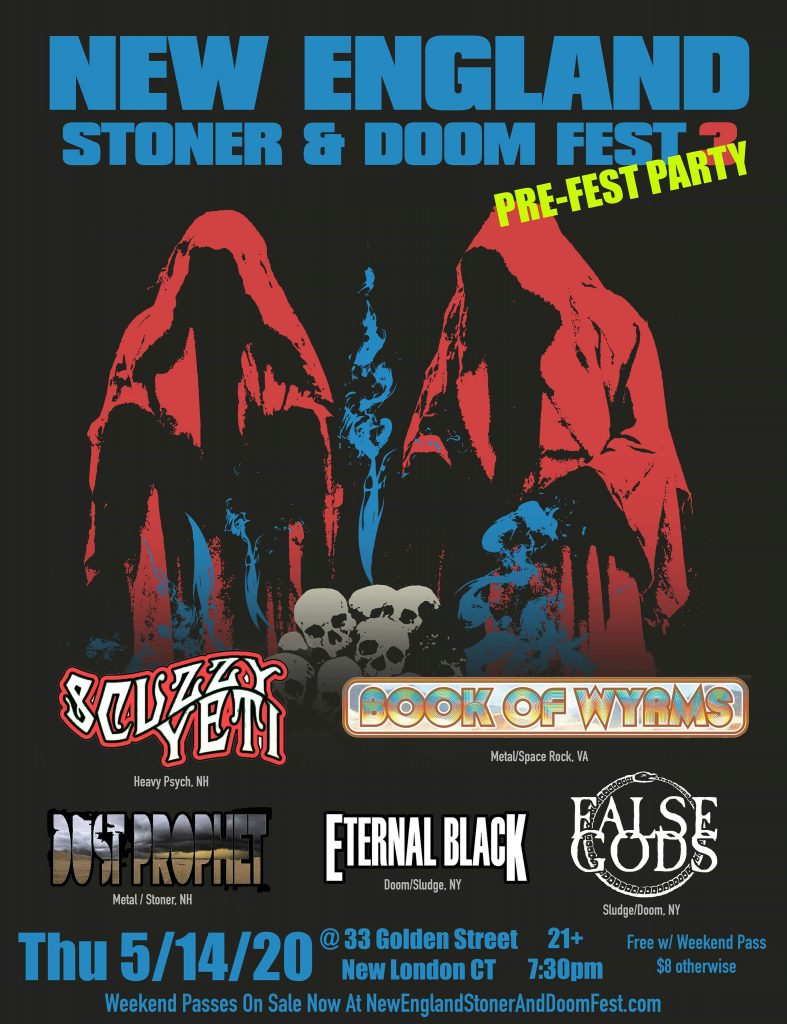 For more from Alternative Control, find us on Facebook, Twitter, Instagram, Soundcloud, and bandcamp.  Join our mailing list here.