Can I get an "Oh, yeahhhhhhhhhh!"
Vancouver's League of Corruption takes a journey to the American South with their new single "Want Me Gone." It's one of the tracks from their upcoming debut album Something in the Water, being released via Black Doomba Records on June 12th.
"Want Me Gone" tells the sordid tale of one of those breakups everyone knew would happen. It's relatable — and groovy! Channeling Lynyrd Skynyrd, Zakk Wylde, and Corrosion of Conformity, League of Corruption proves that there is indeed "something in the water" in Vancouver.
Like what ya heard? Preorder Something in the Water on bandcamp!
About League of Corruption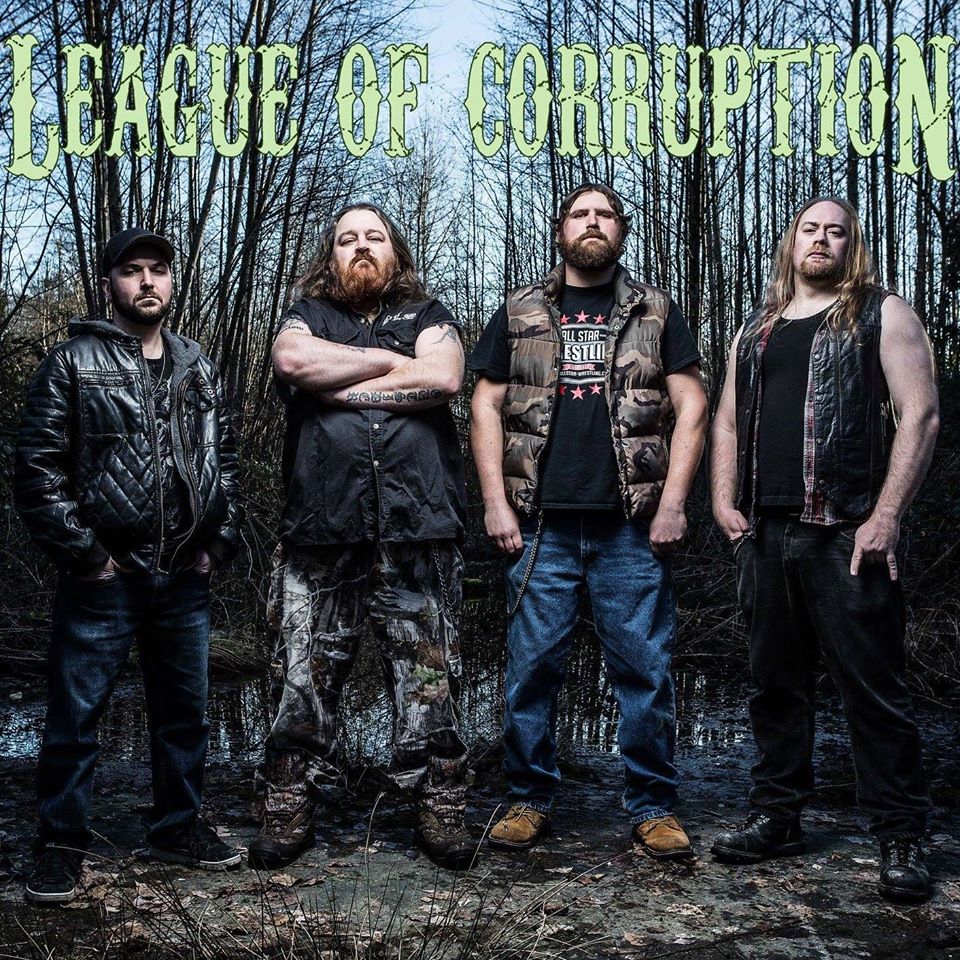 There's something about the grittiness of Southern-styled groove metal that instantly evokes the mental image of beer flowing, hair flying, and riff upon solo thundering from the speakers. But this is no backyard band on their first rodeo; this is League of Corruption, founded by scene veteran Chris Barlow (ex-Mecha Messiah), and with Canada's underground legend Brian Langley (Aggression, ex-Infernäl Mäjesty) on guitar and backing vocals. Despite existing intermittently for 15 years, 2020 is the time to roll out their début full-length, Something in the Water.
So what does this group from the Great White North have to offer? "Save the Church" has that clear from the outset. We kick off with pounding drums and an instantly catchy guitar melody, topped off with a rough-n'-ready gravelly bellow, the bass filling out the low end neatly, though it too has its time to shine when a screaming solo takes centerstage. Zakk Wylde has had no small part to play in Brian Langley's sidewinder guitar playing – not least that the latter fronts a Wylde tribute band – but their influences also spread to heavier and lighter climes. "Want Me Gone" channels that mournful Lynyrd Skynyrd vibe, while the title track brings in big gun riffing in the vein of Down or Corrosion of Conformity.
There's a lot packed into these six tracks. It's clear that if a soundtrack is needed for ice cold beers and reminiscing about the good ol' days of rock and metal, then League of Corruption proves there is indeed Something in the Water in Vancouver.
Lineup
Chris Barlow- Vocals and guitar
Brian Langley- Guitar and backup vocals
Drewski- Bass and backup vocals
Paul Trounce- Drums
Tracklisting:

1. Save the Church
2. Leave Me Be
3. Not Your Friend
4. Something in the Water
5. Want Me Gone
6. Where's Your Savior Now
For more from Alternative Control, find us on Facebook, Twitter, Instagram, Soundcloud, and bandcamp. Plus, follow our 2020 coverage playlist on Spotify!