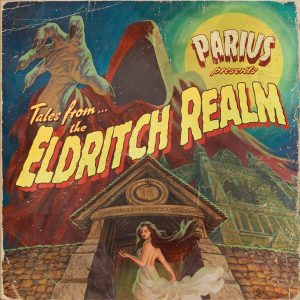 AltCtrlToob is proud to present the "Phylactery" Playthrough by Philadelphia's Parius!  Say that ten times fast and the next beer's on us….
Seriously though, this Pennsylvania prog-death outfit is making waves with their upcoming release The Eldritch Realm.  Combine the snarl of Black Dahlia with the melodicism and dynamics of Obscura, and you have this immediately appealing band.  The Black Dahlia Murder influence is no surprise as the young outfit has collaborated with former TBDM guitarist Ryan Knight on previous works.
Have a listen to Parius's drum and bass playthrough of "Phylactery" below.  (In case you're wondering, a phylactery is "a small leather box containing Hebrew texts on vellum, worn by Jewish men at morning prayer as a reminder to keep the law," according to Google; the word can also mean an amulet with supernatural powers.)
In regard to song choice for this premiere, the band said, ""We choose to highlight 'Phylactery' first and foremost as we feel it best represents The Eldritch Realm, and where we see ourselves moving towards as a band. From a purely instrumental point of view, the song also highlights each instruments' technical skill without one single person over shadowing another."
The Eldritch Realm is available for pre-order on bandcamp and will be released on Friday, July 20th.  Connecticut audiences will be able to see Parius live at Cook's Cafe in Naugatuck on September 1st, along with Hounds of Justice, To Fear the Fall, and Control Scheme — join the Facebook event here.
For more from Alternative Control, find us on Facebook, Twitter, Instagram, Soundcloud, and bandcamp.