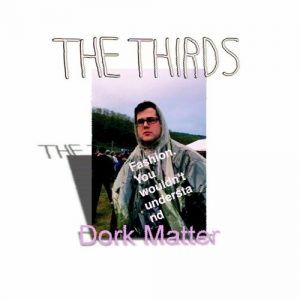 Weezer was the first influence that came to mind when listening to The Thirds' new EP Dork Matter.  Self-released on May 25th 2018, the Oneonta, New York band's sophomore offering dials up the Buddy Holly and destroyed sweaters on second track "Say a Few."  (The first track, "Buncha Nerds," is more of an intro/voiceover than a song.)  But as the EP rolls onto "Statue of Limitations," the music gets more experimental.  The interlude "Miracle Metal" leads to "Maybe," another ironic rock tune that calls on Weezer and the Beach Boys with its singsong guitar hooks and harmonized vocals.  Closer "Antimatter" wraps up the EP with some busy drumming and  an anticlimactic outro.
"Say a Few" and "Maybe" were the catchiest tracks on Dork Matter, but maybe the other, less-controlled tracks are part of The Third's statement on " self-worth, anxiety, regret, and confusion."
For more from The Thirds, keep an eye out for live shows in the Northeast and visit them on the interwebs:
Facebook
Instagram
Twitter
Bandcamp
Soundcloud
Youtube Channel
And for more from Alternative Control, find us on Facebook, Twitter, Instagram, and bandcamp.
This post was sponsored by Independent Music Promotions.  All opinions are our own.