Our friends in Ghost:Hello are always pushing the creative envelope.  Check out their latest endeavor, an animated music video for their song "Spit of Stars."  Inspired by Lovecraft and the Tibetan Book of the Dead, a mysterious artist known as Stonino made the animation — and also contributes the Italian narration of Dante's Inferno in the middle of the song.
In this video, we encounter a shirtless cyclops on a cosmic journey, where he confronts intergalactic beasts to finally find….  You'll have to watch and see.  Metaphors for self-discovery and inner wisdom abound; this is a band that's not just cranking out songs, but rather mapping out an ever-expanding artistic universe.  Tour dates and more below!
Ghost:Hello is a synth-loving stoner rock family affair from northeast Ohio.  Made up of a husband/wife duo and their cousin, the band members have been playing for decades.  With extensive individual histories touring around the US and in Europe in other DIY groups, this project just feels like a natural continuation.  Together as a family and as musicians, Ghost:Hello is now ready to take the rock n roll world by the horns.
Bringing in all sorts of unorthodox elements into their fuzz rock assault, this trio counterbalances stoner sludge with trip hop grooves.  The group has never been afraid to experiment, and Ghost:Hello is completely a slave to their various muses; this leads to an elegant fusion of influences of bands like Type O Negative to Fatso Jetson by way of Queens of the Stone Age.  The band has amassed an impressive social media following since its inception, even with a debut album still on the way.  The upcoming record, Sound of Color in Space, has been engineered and produced by a friend through the company 8th Day Sound, who have worked with Slayer, Marilyn Manson, and Smashing Pumpkins.
Now as they double down for their first release, Ghost:Hello are set to take on bold new vistas.  Having played around the Midwest since 2013, the local crowd is hungry for what this trio is about to deliver.  DIY til death, these fuzz rockers are planning everything from shows in new places to an animated video to herald their new music.  A band that's no stranger to hard work, and who constantly push to innovate, Ghost:Hello are a breath of fresh air in a crowded scene!
Sound of Color in Space will be available in digital and CD formats September 20th, 2019.  Preorder here: https://ghosthello.bandcamp.com/album/the-sound-of-color-in-space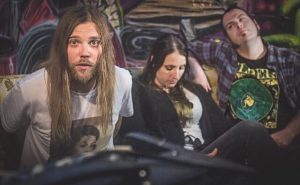 Tour Dates
9/20 — Album Release & Tour Kickoff party The Rialto Theatre – Akron, Ohio
9/21 — Pauli's Hotel – Albany, New York
9/22 — The Flask – Portland, Maine
9/23 — Midway Cafe -Jamaica Plain, Massachusetts
9/24 — Dusk – Providence, Rhode Islan
9/25 — The Depot – Baltimore, Maryland
9/26 — The Empty Glass, Charleston, West Virginia
9/27 — Tarot Tattoo StonerDoom Tattoo Extravaganza Volume II – Richmond, Indiana
Band Members:
Nina Skok — synthesizers, samples, and Theremin
William Jennings — bass
Joe Kidd — drums and percussion
Connect with Ghost:Hello
For more from Alternative Control, find us on Facebook, Twitter, Instagram, Soundcloud, and bandcamp.