Ever wonder what local death metal sounds like in… South Africa??  Welp, check out this brand new lyric video from Port Elizabeth outfit Monolith ZA, for their song "The Lord Conspirator."  Melding the stylings of Death and Opeth, the band is looking forward to releasing a full-length on April 28th via MMD Records.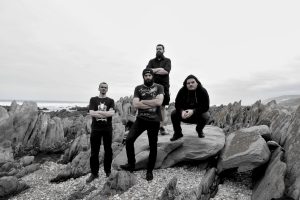 The band says, "'The album's title track and opening song, 'The Lord Conspirator,' serves as a dense and moody introduction for what follows throughout the rest of the album.  Lyrically, this song sets the album's narrative in motion by warning the protagonist of what's to come."
From what we can tell from the video, "what's to come" sounds like either a volcano eruption of nuclear fallout.  Check it out below!
Want more?  Stream "Black Earth's Gate" below and preorder the album here.
Lineup
Christopher Paterson – Guitar and Vocals
Andrew Viviers – Guitar and Vocals
Coburn Green – Bass and vocals
David Mills – Drums
Connect With Monolith ZA
…And in case anyone's curious, ZA is the country code for South Africa!  #themoreyouknow
For more from Alternative Control, find us on Facebook, Twitter, Instagram, Soundcloud, and bandcamp.