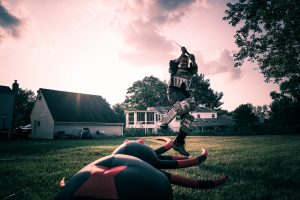 Some say that everything has been done in metal.  Well, I think "Coral the Merknight vs. SEARANTULA" is the first of his kind, a merman knight (apparently this is a thing) on a quest to defeat the giant spider Searantula.  This one-man comedic metal act out of Maryland gives listeners on hell of a musical boat ride on his debut album It Weaves a Web of Metal.
His homemade videos are quite a trip too:
Despite all the goofy backyard antics, this guy isn't fooling around about writing multifaceted music.  It Weaves a Web of Metal has guest appearances from vocalist Adōn Fanion of Ghost Ship Octavius and drummer Travis Orbin of Darkest Hour (and was featured in Dyed in Grey, who has appeared in AltCtrl's hallowed review section and whose bass player formerly played with Kaos Reign).  It's like a metal six-degrees-of-separation!
Check out Coral the Merknight on Facebook, Twitter, Instagram, and the web for more high-seas metal hilarity.
And for more from Alternative Control, find us on Facebook, Twitter, Instagram, Soundcloud, and bandcamp.
This post was sponsored by Independent Music Promotions.  All opinions are our own.