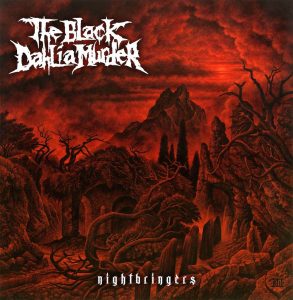 What can I say about Black Dahlia?  Hearing Unhallowed for the first time around 2005 or 2006 gave me a whole new perspective on music.  I kept that album in regular rotation for many years, as well as their third album Nocturnal.  My now-ex husband and I even joked about playing "Closed Casket Requiem" at our wedding.
Then I fell off.  I bought Ritual at some point, but sold it online because it didn't keep my attention.   When I went to see them a couple years ago, I barely knew any of the songs they played!  Jesus, when did I get this old?
But Nightbringers is *bringing* this wandering soul right back to into Black Dahlia's clutches.  What I love about this band is how singable melodies rise above the controlled chaos of Trevor Strnad's vocals.  He and guitarist Brian Eschbach are the only original members of the band, but the 2016 addition of guitarist Brandon Ellis seems to have upped the classical influence in their music, but without having a bunch of string intros "sanding down the rawness."  Seriously, the opening of "Kings of the Nightworld" sounds like one of those Bach chorales we had to harmonize in high school music theory class.  (Okay, that's baroque but who's counting…)
"Kings of the Nightworld" is my favorite track — it transforms this elementary school librarian into a heavy metal badass in the time it takes to pull out of the parking lot.  "Jars" is a close second; that drum break about two minutes in is just crushing.  The whole album brings back that feeling of being on an angry mission that I got from Unhallowed and Nocturnal.
When I purchased the CD from Amazon, it came with a download — so I immediately burned it because I couldn't wait two days for the CD to come in the mail.  Now that I have the album on a disc anyway (albeit with the songs in the wrong order, whoops!), I don't really need the real one — so I'm giving it away to YOU, the reader.  Enter to win a sealed copy of Nightbringers and a bunch of Alternative Control swag in the widget below!
Giveaway winner will be notified via email by Thursday, 10/26.  If the winner does not respond within 48 hours, another winner will be chosen.  Winner must provide mailing address.
For more from Alternative Control, find us on Facebook, Twitter, Instagram, Soundcloud, and bandcamp.