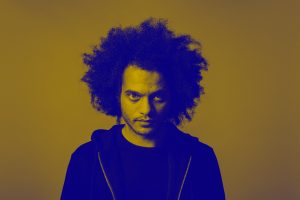 From the first notes of eponymous opening track "Devil is Fine" — harmonized call and response vocals punctuated by the clink of chains — you know that Zeal & Ardor is a different kind of metal.  The brainchild of Swiss-American musician Manuel Gagneux, this project melds Delta blues and black metal in a way that Robert Johnson might have envisioned at the crossroads if he knew the latter would one day exist.
The album Devil is Fine was released in 2016 and then re-released February 24th, 2017 via Reel Music.  I chatted with Gagneux through email shortly after the re-release; like many interviewers, I was curious about why he chose American slavery as a muse.  "It was old recordings by Alan Lomax," he said. "They have such a guttural vehemence to them that is in many ways similar to black metal."  As for how Gagneux got parts of his music to sound so similar to recordings made over eighty years ago — to the point where web commenters accused him of sampling public domain recordings without giving credit — no deal with the devil was necessary.  "I just owned a crappy microphone […] and added some distortion to it. It's really not that much of an effort. So yeah, mainly not having good equipment was the key."
For something Gagneux started as an "exercise," it picked up a lot of steam throughout 2016, with Devil is Fine being named #6 on Noisey's 100 Best Albums of that year.  Gagneux said of the project's inception, "I'd ask the internet to name two musical genres and I'd make a song out of them in thirty minutes. This combination stuck with me and I kept on trying it out."  He prefers to compose independently.  "I'm quite the control freak when it comes to my music. I enjoy playing other people's music too, but as soon as I'm involved in the writing I imagine myself becoming pretty insufferable."
He's not without a sense of humor, though.  In regard to the striking video for "Devil is Fine," Gagneux said, "I was only involved in making the concept and 'story.' Making film is such a huge endeavor and I lack any kind of experience. I ended up making sandwiches on set. That's something I have expertise in."
I delved into some silly questions and learned that this expert sandwich maker likes both ketchup and mayonnaise on his fries, and prefers cats to dogs.  "I read somewhere that dogs will mourn their dead masters after they die for days if the body is not discovered. Cats will immediately start eating your face.  Fantastic."  My own cat has no teeth, so she'll have to lick my bloated, rotting countenance like an ice cream cone…
But anyhow.
With all that's going on in the headlines lately, I couldn't help asking what Europeans were thinking of the United States these days.  "If you're addressing the orange elephant in the room," Gagneux responded, "I think Europe almost unanimously disapproves. But there is a lot of sympathy for the American people. Fear is such a simple and effective tool and it saddens me to see it used in such a calculated and simply evil manner."
Indeed, many Americans think we are so far removed from the evils of the past that those sins are unrepeatable.  Devil is Fine isn't so much a moralistic condemnation of history's ills as an aggressive response to them; whereas Christianity was at times a pacifier for enslaved people, Zeal & Ardor goes back in time to imagine something darker.  The clink of chains mixed with blast beats, tremolo riffs, and even delicate music box-esque melodies is sure to provoke a reaction, speaking to race and class tensions that persist one hundred and fifty four years after the Emancipation Proclamation.
Your only chance to see Zeal & Ardor perform in the United States is at the Psycho Las Vegas Festival this August (at least of what's been announced to date).  Here are all of Z&A's upcoming shows:
14 APRIL 2017 CH – BASEL, CZAR FEST
19 APRIL 2017 FR – PARIS, LE GLAZARD
20 APRIL 2017 UK – LONDON, UNDERWORLD
21 APRIL 2017 NL – TILBURG, ROADBURN FESTIVAL
22 APRIL 2017 DE – BERLIN, URBAN SPREE
24 APRIL 2017 CZ – PRAGUE, ROXY
25 APRIL 2017 PL – WARSAW, HYDROZAGADKA
03 MAY 2017 IT – MILANO, MAGNOLIA
04 MAY 2017 CH – GENEVA, USINE
05 MAY 2017 GR – ATHENS, ILION PLUS
06 MAY 2017 FR – GUÉRET, METAL CULTURES FESTIVAL
18 & 19 MAY 2017 UK – BRIGHTON, THE GREAT ESCAPE FESTIVAL
17 JUNE 2017 DE – MANNHEIM, MAIFELD DERBY
18 JUNE 2017 NL – HILVARENBEEK, BEST KEPT SECRET
21 JULY 2017 PL – KATOWICE, METAL HAMMER FESTIVAL
20 AUGUST 2017 US – LAS VEGAS, PSYCHO LAS VEGAS
Visit Zeal & Ardor's website for music and mystery.  And for more from Alternative Control, find us on Facebook, Twitter, Instagram, Soundcloud, and bandcamp.
Photo courtesy of Atom Splitter PR.
Thanks to Christopher Baldwin for his input on the interview questions and for introducing me to this music!  — Jessie