The hometown hero can be one of the most inspiring figures in all of literature and reality. A competitor or combatant that we can all relate to or identify with, because we know where they've been; hell, we are where they've been. We feel like we are a part of the journey to where they are now, we know somebody who knows them or we might even know them personally. One of us made it. That's our guy/girl.
It is refreshing to know that these stories are still being told, and recently, a giant who goes by the name of Wrecking Ball Legursky has written the next chapter of his epic. Legursky became the most recent Connecticut native to attend an exclusive tryout at the WWE Performance Center in Orlando, FL.
A pure throwback to the days of massive mat men like One Man Gang and Haystacks Calhoun, the Wrecking Ball has established himself on our local independent wrestling scene as one of the single largest professional wrestlers in the country. In just three years he has earned screentime on one of television's most prominent platforms for professional wrestling, and now has taken the biggest individual step towards forging a career that most people would consider unlikely at best, impossible in almost any case. Just like our independent music scene, there are countless wrestlers who toil endlessly to sharpen their skillset, but only the tenuous combination of right place/right time, borderline-obsessive hard work, God-given talent, and unforeseen luck can put you in a position to be seen by an entity that can carve the career of your dreams.
I reached out to Wrecking Ball after seeing a video on WWE.com, where he and another 400+lb athlete were running drills, and was fortunate enough to enjoy a lengthy conversation with him. I spoke to a surging entertainer who is enjoying well-earned notoriety, but concurrently to a local guy who knows where he came from, what it took to get to where he is, and what it will take to get to where he's going.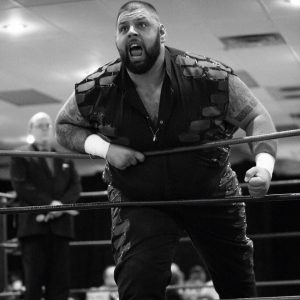 Like many athletes, Legursky found success in various sports. He finished second as a heavyweight in LL's as a wrestler at Southington High School, and went All State playing football as well. He also played collegiate football, but the time would come to pursue a dream that many would never even consider a possibility:
"I started in 2013 to try it out. I knew it was something that I always wanted to do. Once my football career was over, I knew I had to give it a shot… I always got a positive reaction from the crowd, even in my first match. I continuously have improved, throughout my career, by working hard and seeking more knowledge. I just always thought, 'Why not me?' I worked hard to invest in myself and my future. As the years went on, I started to get more and more bookings and opportunities."
Having seen firsthand the effect Legursky has on a crowd, I always knew that it was only a matter of time before the audiences got bigger and the spotlight grew to match. Front row at every show, however, are his biggest fans, and rightly so. I asked Legursky who has been in his corner since day one, and his answer is unsurprising:
"My parents have always been in my corner, and so has my brother Dennis. All of them have supported me and sacrificed for me. They still do. They mean the world to me. I am motivated myself, but they add that extra amount of support, I am inspired by them."
Even a super-heavyweight cannot rely on his physical gifts alone, so I asked how Legursky hones his craft. The big man travels over 3 hours to train with former TNA X Division Champion Michael Bennett and former ROH Television Champion Matt Taven, a tandem who have held tag team championships together in Japan and ROH as well, both of whom have earned their own stout reputations in professional wrestling.
Wrecking Ball's own reputation is growing steadily, as he has appeared on television for Ring of Honor, and he performs regularly for one of the country's largest independent promotions, Northeast Wrestling. High profile opponents include local legends like "Connecticut's Hardcore Icon" Ron Zombie and "The Sexy Beast" Bull Dredd, Ring of Honor mainstays like TK O'Ryan, Vinny Marseglia, Dijak and his own trainer Michael Bennett, and even former WWE superstars like Justin Credible and"The Big Guy" Ryback.
Legursky won NEW's second annual Roddy Piper Memorial Battle Royal, and now his efforts have culminated in the most coveted opportunity in professional wrestling, a tryout for the household-name, global industry leader, World Wrestling Entertainment. Only time will tell if the same hard work, perseverance, and dedication that carried him this far can break even that wall, but this much will always be true: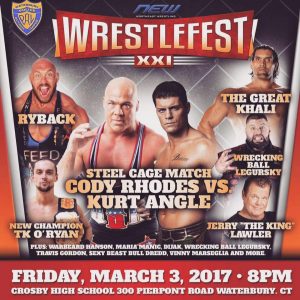 "The Wrecking Ball is straightforward, angry, intense, and unstoppable! The Wrecking Crew would describe me that way."
Your next opportunities to see Wrecking Ball Legursky in action are this Friday night March 3rd in Waterbury, CT, on a show that features the FINAL independent appearance of Olympic Gold Medalist and WWE Hall of Famer Kurt Angle, and then March 18th in Port Jervis, NY, against former WWE Intercontinental Champion Ryback.
For more from Alternative Control, find us on Facebook, Twitter, Instagram, Soundcloud, and bandcamp.