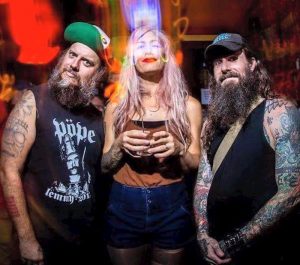 Gritty Pennsylvania rockers BACKWOODS PAYBACK are excited to announce a run of shows with CAVERN in late September that will take them through from their home state to Ohio, western New York, and Canada.
Says the band, "This tour is the third in support of our latest record Future Slum, and marks a year of taking it on the road. We are stoked to be hitting some more towns we haven't seen in a while as well as heading into Canada for the first time! Getting to hear our friends and tour mates Cavern play every night will just be the icing on the cake. See you out there and please….don't become what you hate."
All dates are in support of their 2018 album Future Slum and presented by The Obelisk!
September 2019 Tour Dates
9/22 — Pittsburgh, PA @ Cattivo (Descendants of Crom Fest)
9/23 — Cleveland, OH @ Now That's Class
9/24 — Youngstown, OH @ WestSide Bowl
9/25 — Erie PA @ Basement Transmissions
9/26 — Buffalo NY @ Mohawk Place
9/27 — Toronto, Ontario @ Bovine
9/28 — Montreal, Quebec @ Turbo Haus
9/29 — Philadelphia, PA @  KungFu Necktie
About Future Slum
Future Slum is not a pretty record. It's not the clean and well-manicured one sitting awkwardly at a table in the local watering hole; it's the grizzled one propping up the bar and regaling the crowd with conspiracy theories. Mike Cummings, guitarist and vocalist of Backwoods Payback — the band responsible for this lumbering hulk of stoner rock n' roll — certainly fits the bill, whether he's yowling his head off or singing in an eerily hypnotic manner. Meanwhile, Jessica Baker is the steadfast anchor on bass, and Erik Larson (of Alabama Thunderpussy and the legendary hardcore band Avail) gives a thumping performance on his kit. A friend pops her head round the door too — Mlny Parsonz of Royal Thunder trades words in her usual melodious tones on the apathetic 'Whatever', yet also pulling out a surprising rasp.
Backwoods Payback are also able to spin a good yarn about their travels, sharing stages with Fu Manchu, Scissorfight, and Third Eye Blind — a bewildering list when put side-by-side, but each represents an important factor in this band's aesthetic. Fu Manchu demonstrate the "gloryfucked fuzz," as Backwoods Payback so eloquently put it; Scissorfight showcase the no-holds-barred burly brawling such as on "Generals," while Third Eye Blind for the occasional moments of calm (!) like in "Big Enough," giving brief respite from the warning shots being fired throughout the rest of the records.
Five albums in, Future Slum is the fruit of a hard slog for fifteen years. Understandably, they are excited for it to see the light of day, not least for its cryptic subject matter. "It all revolves around the idea of feeling lost and disenfranchised with your surroundings, finding your people, and losing yourself within them. Have you ever followed?" Mike finishes, quoting from second track "Lines." It's up to you if you can read between them.
Connect With Backwoods Payback
P.S. This is a really awesome, life-affirming band.  If they are coming through your town, you should see them.
For more from Alternative Control, find us on Facebook, Twitter, Instagram, Soundcloud, and bandcamp.