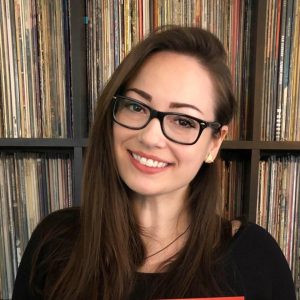 If there's one thing this blog is behind the times on, it's vinyl — so I was very happy to talk with Jenn D'Eugenio and learn a little more about that area of the music industry and listening experience.  D'Eugenio, who runs the website Women in Vinyl, works in sales and marketing at Furnace Record Pressing by day.  She has also become involved with the Women of Doom compilation that's been generating a lot of buzz with a Kickstarter (currently in the final hours) that's nearly doubled its goal.  Read on to find out how D'Eugenio is bringing more women into the resonant world of records.
First, since I'm not a vinyl aficionado, can you tell me about how the Women in Vinyl site got started and its goals/coverage?
Sure! Women in Vinyl was started as a side project I created while there was this meme going around that drove me crazy.  It was of a 1950's couple, the man holding a record with a speech bubble reading, "Hey Dear, check out this white label promo version of Led Zeppelin's … record." (Insert any special variant / record / band there, it went around so many times with different variations…) The guy's wife is sitting there knitting and her speech bubble says "Sorry hunny, I don't give a ****."
It drove me crazy because I've been a vinyl collector since before the "revival" and while I get the sentiment, why did it have to appear as if the wives didn't care? No one thought to stop for a second and see the bigger picture. That along with the way I'd been treated a few times in records stores and then just working in manufacturing, I realized something needed to be said. The goal of Women in Vinyl is to empower women working in the music industry to create, preserve and improve the art of music on vinyl. I currently interview these women with weekly blog posts to share that passion for music on vinyl regardless of gender. The future goal is for nonprofit status where Women in Vinyl aims to help girls interested in careers in music from audio engineering to DJ school achieve those dreams with the resources and funding to do so.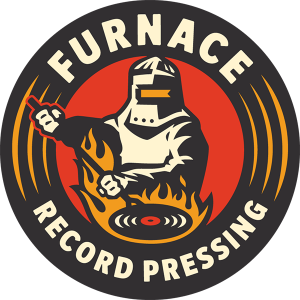 Facebook says you do sales and marketing at a record pressing company.  That sounds like a fun job!  What kind of things are part of "a day in the life" there?
It's funny, I ask this question all the time in my interviews — so to answer it now I can agree with the 'a lot of email' response. It really is a fun job and while there are a lot of stressful components to it (as vinyl is a very imperfect medium), the people I get to interact with day to day and the ability to help people press their hard work onto vinyl is something I feel very lucky to be involved in.
My day to day consists of working with bands and labels to create their vinyl vision through pricing out various options from vinyl color to jackets and finishings around release dates, tours, etc. I help then get it all set up to pass off to production who will carry through with the task of getting the product pressed, assembled and out the door.  On the marketing side I work with the owner of Furnace, the VP and my team to share content on social media, a newsletter and have a presence at industry events. It's always fun to walk to the press room and see what's being made or watch something you'd talked about with a client getting the final touches as it goes through assembly.  Occasionally we'll get a client come by to pick up or check out the plant and giving them tours and allowing them to peek behind the curtain is another exciting part of the job.
How did you get involved with the Women of Doom compilation and what is your role in it?
My personal presence within the community for the type of music this comp is highlighting has been through social media, where I'm a huge supporter of the stoner rock, psych / space rock and doom labels that I love. The vinyl community there is so great and has connected me with a lot of the people behind these labels and that is how I got to know Brad and Jadd.  They have been supportive of me and my involvement in the community and reached out to see if I would contribute to Women of Doom.
(Getting involved with this project) made sense to me for a couple reasons. One is that I love the music itself and that is a place that is not as heavily woman-focused as some other genres — so if there was going to be a project like this, I wanted to be a part of it to support these women in a genre I love. Then additionally because Furnace Record Pressing (where I work) will be pressing the vinyl. I know a lot of plants these days have women working in various aspects of the business, but I think it's pretty great to be part of a company that has women not only in each phase of the process but also leading a lot of the teams from the VP to sales and production. That really helps carry the female support through to the physical product in people's hands and tie in my support for these artists and the project as a whole with Women in Vinyl.
My role to start was really in advising, listening, and contributing some ideas for women whose music I liked who could be involved, as well as throwing out some ideas for women-focused nonprofits. Now as we carry into phase two, my role will be in working to get the vinyl package together for the project and helping document the production side for those who have backed the project.
What do you think would make the world a better place for women and non-binary musicians in a male-dominated industry?  And where does Women of Doom fit in with that?
More inclusiveness.  With Women in Vinyl it's not about women being better than men, or saying that all men are not supportive or open to accepting the diversity; that is clearly not the case.  It's rather to show support for women who are working hard and giving them a place to shine and be recognized, to share their opinion and be heard and to cultivate that community for those that aren't as lucky to be in a workplace that is as open as mine.
A man who owns a very large recording studio posted a Facebook status recently saying: "Pro tip for you fellas out there. When calling businesses and a woman answers do not assume she is a receptionist…"  I also had someone I interview tell me "I love reading every blog and hearing every story. I'll never again feel like the only girl in the room."  These are the reasons I am doing what I do. Just because not everyone sees it doesn't mean it's not still out there and a conversation needed to be started.  I think both Women in Vinyl and Women of Doom are having that conversation.
Support the Women of Doom Kickstarter here: https://www.kickstarter.com/projects/womenofdoom/women-of-doom 
Find Women in Vinyl on Facebook and the web.
For more from Alternative Control, find us on Facebook, Twitter, Instagram, Soundcloud, and bandcamp.