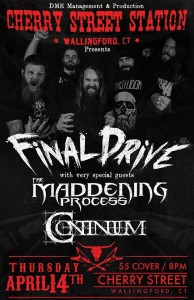 It's not every day that Connecticut's beloved home of heavy music, Cherry Street Station, hosts a band from St. Louis, Missouri; one that plays straight-up, down-home, southern-fried metal. An even less likely occurrence is that said visitors are bringing home a wandering vagabond minstrel from our very own Constitution State! On his second national tour in as many years, Eyes of the Dead guitarist Pat Seymour came home to show everybody what he's been up to with Final Drive, and the ensuing show was a direct contradiction to every naysayer's complaint that our Scene is dead.
There were a handful of reasons for libations on Thursday, depending on who you asked. There was work today, work tomorrow, commemorating the passing of the legendary Pete Steele, Pat's homecoming, the best bartenders, it's almost summer, it was a Thursday night in Wallingford… Friday was a fearful proposition for many daytime warriors. A good friend and I shared some textual discourse the following morning:
7:54am Friday, April 15th
BRY… I MEAN, 'FRIEND': Going to work today = regrettable
ME: yeah I've been awake for an hour and I don't have to be anywhere but ugggggh
FRIEND: The skull meat says no… so much no
ME: Don't forget tho, we're cannibalizing soon
And that was the kind of evening it was. I literally had decided that this "mystery friend," who played in one of the bands that night and smokes meats regularly, would be the one person I would trust to cook a human being. And I would try some.
I regrettably had not seen The Maddening Process before this. That problem has been remedied, and I look forward to more opportunities to catch them. What I heard from their last two songs was unique and full of energy, I truly can't wait for the next chance to catch an entire set! I was stopped in my tracks on my way to the bar (if you know me, that's a feat in itself), it was a definite bummer that I arrived late from work.
Continuum did what Continuum does. Having reviewed two of their albums and seen them as many times as I've seen any other band in Connecticut (if not moreso), I can speak for the consistent quality of their performances. But on this evening, they debuted brand new songs and welcomed Nick from Dexters Lab Recording to mix their sound, ahead of his hand in creating their next standout effort. All of the fresh tunes were stellar, and I expect their most worthy and triumphant representation, whenever the anticipated album comes to pass.
Final Drive was impressive! Not knowing what to expect, I thoroughly enjoyed their music, and they brought a headlining presence to one of Connecticut's proudest homegrown musical destinations. I try not to resort to comparisons in order to describe an artist's sound, but I hear a lot of the groove that made Down and Corrosion of Conformity so great. Final Drive's personality is its own, however, with a blistering pace at their heaviest. And vocalist Jordan Gaw employs a wide range of aggressive tones that amplifies arrangements which require dynamic vocal accompaniment.
What most profoundly affected me about this evening, however, was the sheer magnitude of support that The Maddening Process, Continuum, and Final Drive commanded. Members of over 20 bands (that didn't even play, imagine?) came out (on a weeknight) to show some love to Pat & Friends. I actually counted those groups represented, and I didn't count people for more than one band at a time when they do double duty. I saw people I'd never expect to see and people I hadn't seen in ages. There were the usual suspects, of course, after all it is Cherry Street, but that is why a night like this is possible, and so special. It was a huge testament to our local musicians and their devotion to one another. It was the kind of night that puts the "-unity" in "Connecticut Metal Community."  It was an early evening that put some weekend festivals to shame, and I was lucky to be assigned the article!
For more from Alternative Control, find us on Facebook, Twitter, Instagram, Soundcloud, and bandcamp.