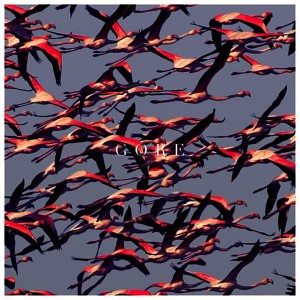 Deftones is a tough band to ignore, despite many metalheads' wishes to ignore them. The band holds a peculiar place in the genre – a controversial position at that. For one, they're (absolutely) the only band that managed to morph the dreaded 90s nu-metal sound into something with artistic merit. They're remarkably consistent for a group of their age and arguably remain one of the genres most experimental acts. They don't fall for traditional and tired heavy metal songwriting tricks and incorporate very unorthodox influences such as dream pop, alternative, shoegaze and new wave luster into their music. They've been on quite the successful stretch lately, and even though Gore might be more of a shift to the side rather than up, it's still a superb offering.
Gore might seem like Deftones by the numbers at first listen. But time and perseverance will yield the nuances within the band's signature moves. At the surface, there are no surprises. Gore has Deftones' trademark nu-metal groove, soaring melodic reverberation, eccentric time signature changes and Chino's vocal acrobatics. But beneath all that are textures that give the album its strangeness, like exotic xylophone effects in "Acid Hologram", neo-prog synthesizers in "Phantom Bride" and the amniotic ambience of "Hearts/Wires". It's these nuances that keep Gore from floating by in that predictable Deftones haze of aggression and prettiness.
I'm not saying the album doesn't have dynamics. If anything, Gore is less disciplined than Koi No Yokan before it. The attack is only more streamlined than in the past. Songs by themselves don't necessarily feature anything strikingly memorable. It's more about the ride than the stops along the way. And Gore is an emotional, weird and hallucinogenic monorail trip through an alien sky. It doesn't bump around too much, but the whole experience is unique and intoxicating.
The band manages to promote accessibility while simultaneously violating expectations. They build up a breakdown without ever opening it up. They bring you to a soft, beautiful plain made of sugar water, pink sunset clouds and melancholy before smashing your buzz with a cacophonous riff rife with distorted, nightmarish screams. It's almost unfair that "Prayers/Triangles" is the first track, because it gives us exactly what we want to hear. Ethereal guitar notes and a dramatic, haunting chorus is like the long drag of a marijuana cigarette after too long of a smoking hiatus. But the album only gets weirder and less predictable from there; manipulating the formula just enough to keep us off our guard without turning us away. No matter what songs like "Gore", "Doomed User" and "Xenon" do, they manage to pull me deeper into their twisted, sexual and drugged up world of pain and pleasure.
The cover art is a good visual expression of the album. It challenges you to look at the word "gore" in a different way. Perhaps a flock of flamingos is an abstract representation of blood cells streaming through our veins. Despite the birds' reddish color, the comparison between title and artwork is a stretch. And that's exactly what Deftones are about. They force us to look at the metal genre in a different way by presenting it to us in a very unrecognizable form. They've shown that heavy metal can be pretty, sensual, texturally focused and accessible. And if that's a problem for purists, then they're missing out on one of the genre's most treasured acts.
For more from Alternative Control, find us on Facebook, Twitter, Instagram, Soundcloud, and bandcamp.