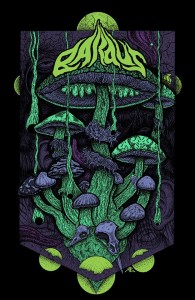 It boggles this writer's mind that a band like Bardus isn't more of a household name for those that hold Unsane and Helmet in such high regard.
Since we interviewed drummer Kyle Pierce last year, the Philadelphia noise rockers have released a new album, Stella Porta, on French label Solar Flare, and have made a video for one of the tracks in "Sky King." (More on that later.)
Stella Porta, 2016's follow up to their excellent 2013 self-released album SOLUS, continues to perfect the band's unholy combination of noise rock and stoner rock. Opener "Smoke Bath" is a two-minute blast of punk fueled fury, while "Monolith" mines a more punishing mid-paced groove. "Transcendence" adds some hazy psych to the mix, to go along with the doomy heaviness. "Oracle" is dynamic, switching up tempos and volume deftly. Closer "Clandestine" ends the album some crushing mid-paced, psych infected noise rock.
Then there is the video for the track "Sky King." First off, the track itself is another crusher from the band. The video shows Pierce getting abducted by aliens and then watches some of the worst parts of our recent history while eating a pizza on their spaceship. It's very apocalyptic, and a bit weird. So, it fits them perfectly. Plus, it's got a twist ending. Watch it for yourself.
So, yeah, definitely check them out. There are tentative plans for a 10 day tour in the Southern part of the United States with our homies in Grizzlor for early next year. Here's hoping they play around here, because that show last year for which we did the interview was cancelled due to inclement weather. Our loss.
For more from Bardus, find them on Facebook, Youtube, and the other usual places.
And for more from Alternative Control, find us on Facebook, Twitter, Instagram, Soundcloud, and bandcamp.