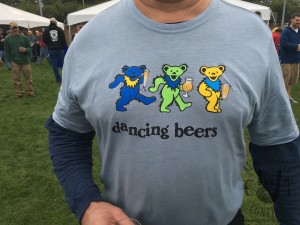 A lot of beer fests tend to blend together; same thing with different scenery, but what sets Smoke in the Valley apart from most other fests is their focus on home brewers. Dollar for dollar I think your ticket money is best spent sampling the hidden treasures fermenting in random garages and basements speckled throughout Fairfield and New Haven counties.
My favorite part about last year's SITV was the home brew tent and this year it not only didn't disappoint, it knocked it out of the park! These 2 home brew tents housed one of the best beer spreads I could expect to find anywhere. I was honestly blown away by the caliber of the beers I tasted, both from brewers I was familiar with from last year and also many new, highly knowledgeable brewers I met this year.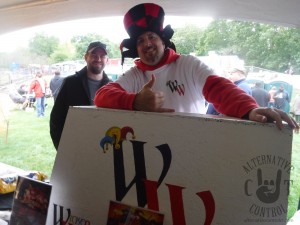 In addition to guests being able to sample the home brews, they were also able to cast a vote for the "People's Choice" favorite brewer which went to the jokesters at Wicked Ways Brewing. In addition to the People's Choice vote there was also a judged competition, judged by 20+ year brewer John Watson, Firefly Hollow Brewing co-owner Rich Loomis, No Worries Brewing Co head brewer and co-owner Dan Whittle and head brewer at BAR Dave Wood. Due to some technicalities not all the brewers were considered in the judged contest, but of those considered the winners were:
1st place: Greg Radawich (Run Amuk Brewing) and his Breakfast Buzz Imperial Coffee Porter
2nd place: Paul Marchinkoski (Coles Road Brewing) and his And the Sun Was Blue Double IPA
3rd place: Scott Cross (Third Stage Brewing) and his Consensus IPA
Of the 4 winners I got to try 3 of them, although I didn't try Greg's winning coffee porter (the one type of beer I've never liked, and coffee is my kryptonite) but I did have his Key Lime Sour, which was top notch. I unfortunately missed out on Coles Road's Double IPA (I think) but the following are some highlights of my favorites at Smoke in the Valley. And don't forget to check out my full photo gallery on Facebook.
Nothing Sacred Brewing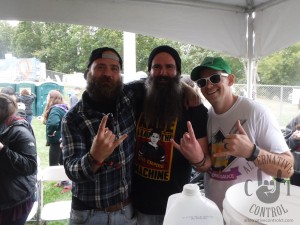 The two home brew tents were located in a very prominent spot right inside the entrance to the 21+ area. Nothing Sacred Brewing, who I recognized from last year's SITV where they took 1st place in the judge's vote for their Awesomesauce IPA, occupied the first station in the first tent. And they did not disappoint this year with more than 6 offerings to taste. Highlights were the Little Monster IPA and the Green Light Pale Ale. And don't forget the Hop Bomb… ask for it by name.
Obsessive Ales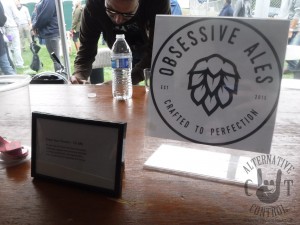 Two stations down from Nothing Sacred was Obsessive Ales with 2 offerings, one of which was the Chase Your Dreams IPA. The brewer's Hill Farmstead shirt was an initial clue to his ability, but this pour was the proof in the pudding: a delicious, smooth and hazy IPA.
Nautilus Brewing Company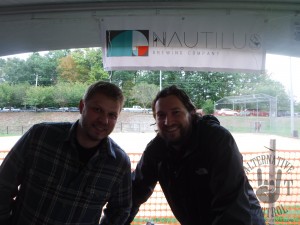 Right around the corner I found Matt and Rob of Nautilus Brewing with two offerings – a pale ale and an IPA. Continuum, the pale ale, was amazingly smooth and fruity, kind of like the local band of the same name. The Liquid Distortion was similarly smooth but with a much fuller flavor, yet still surprisingly easy to drink. It was at this point that I knew this contest was really shaping up to be a stiff competition.
Steiny's Brewing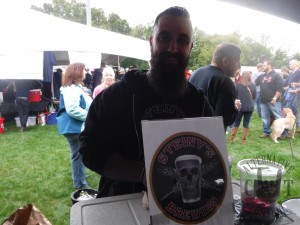 I first met Bill Steinbacher at Freedom Fest 2015 and have been regularly stalking him since. Bill's cool not only because he brews great beer, but he also pulls lots of naming inspiration from metal bands and metal songs. For example this year he was pouring Carouselambra IPA and Last Cup of Blood (a blood orange variant on the peppery Last Cup of Sorrow which he had at last year's SITV). Also, funny story about me and Bill: I have been mistaken for Bill when I was at NEBCO twice. He practically owes me advertising royalties at this point.
Spirit Brewing Co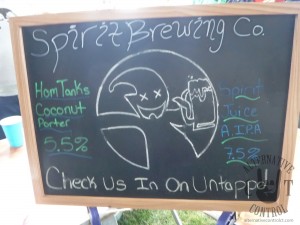 Spirit Brewing was located in the corner of the second brew tent, and I'd be a liar if I said I hadn't heard good things about them before I got there. I sampled their Spirit Juice IPA and it definitely lived up to the hype. And who doesn't love the beer name Hom Tanks? Spirit Brewing was just another reminder of how top notch all the brewers had been thus far.
Pig Candy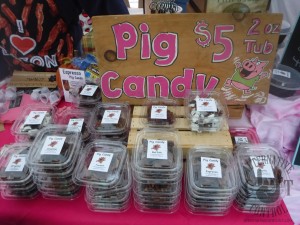 One important tip for enjoying any beer fest is to keep a good food base going, unless you won't get too far. While Pig Candy won't keep the necessary base going by itself, it is a great topping to add onto your base, and also bring home for later. Pig Candy is a favorite of ours and we were happy to find many new flavors this time – including the new garlic flavor we brought home.
Lock City Brewing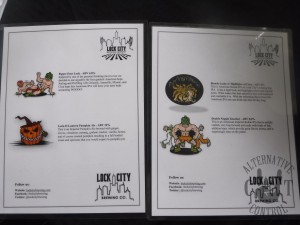 Lock City Brewing out of Stamford, CT, in the process of graduating out of homebrew status, are currently preparing to open their own brewery and public tasting room in the Research Park area of Stamford. They had four offerings at SITV, of which I tried 3 and was blown way by each. Aside from the beer itself another really cool aspect of Lock City Brewing is their artwork, and the thought put into the drawings and descriptions on their tasting sheet. Stay tuned to Alternative Control for updates on the progress of Lock City Brewing's grand opening…
Fouled Anchor Brewing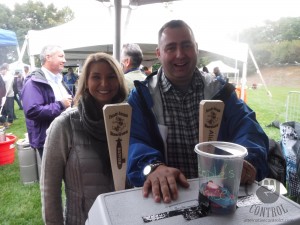 The image of a submarine with the name Batfish on it is what originally drew me over to Fouled Anchor Brewing. After speaking with the brewer I learned he was a proud member of the US Navy and the Batfish was a submarine he served on. It was also very tasty. Editor's note: the lady in the photo is not his wife; she's the boss' wife. His wife is Alicia, whom the other tap handle is named after.
Run Amuk Brewing
Run Amuk Brewing, owned and operated by Greg Radawich, took 1st place in the judge's vote for his Breakfast Buzz Imperial Coffee Porter. I'll just come out and say it, I'm not a fan of stouts or porters so I did not try it, but I did try his Key Lime Sour and was very pleased. It had a clear lime taste, but wasn't overly sweet. It was also the only sour I saw anyone pouring in the home brew tent, so props to that, and with his IPA and pale ale also available Greg had one of the most balanced and expansive menus of all the home brewers. Cheers Greg on your well deserved victory!
Stephen Bak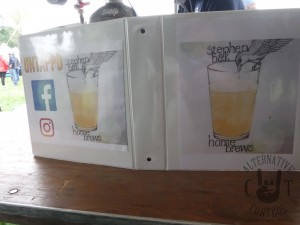 Stephen Bak has been generating quite a following on social media as of late, and many of you may know him from the Stony Creek or more recently the NEBCO tasting rooms. I've been hearing a buzz about his Glow IPA on Facebook for a couple weeks; I was happy to finally try it and it lived up to the hype. Stephen also has an upcoming IPA Education Seminar and Dinner on October 11th, so if you're in the New Haven area and interested definitely check that out.
Smoke in the Valley is another fest I've added to my yearly schedule, if you've been following my posts on here you know I've been to a bunch of different fests but not too many repeats. Smoke in the Valley and Beer Conn are my two favorites and both are worth attending every year. Speaking of, tickets for Starfish Junction's Beer Conn just went on sale yesterday…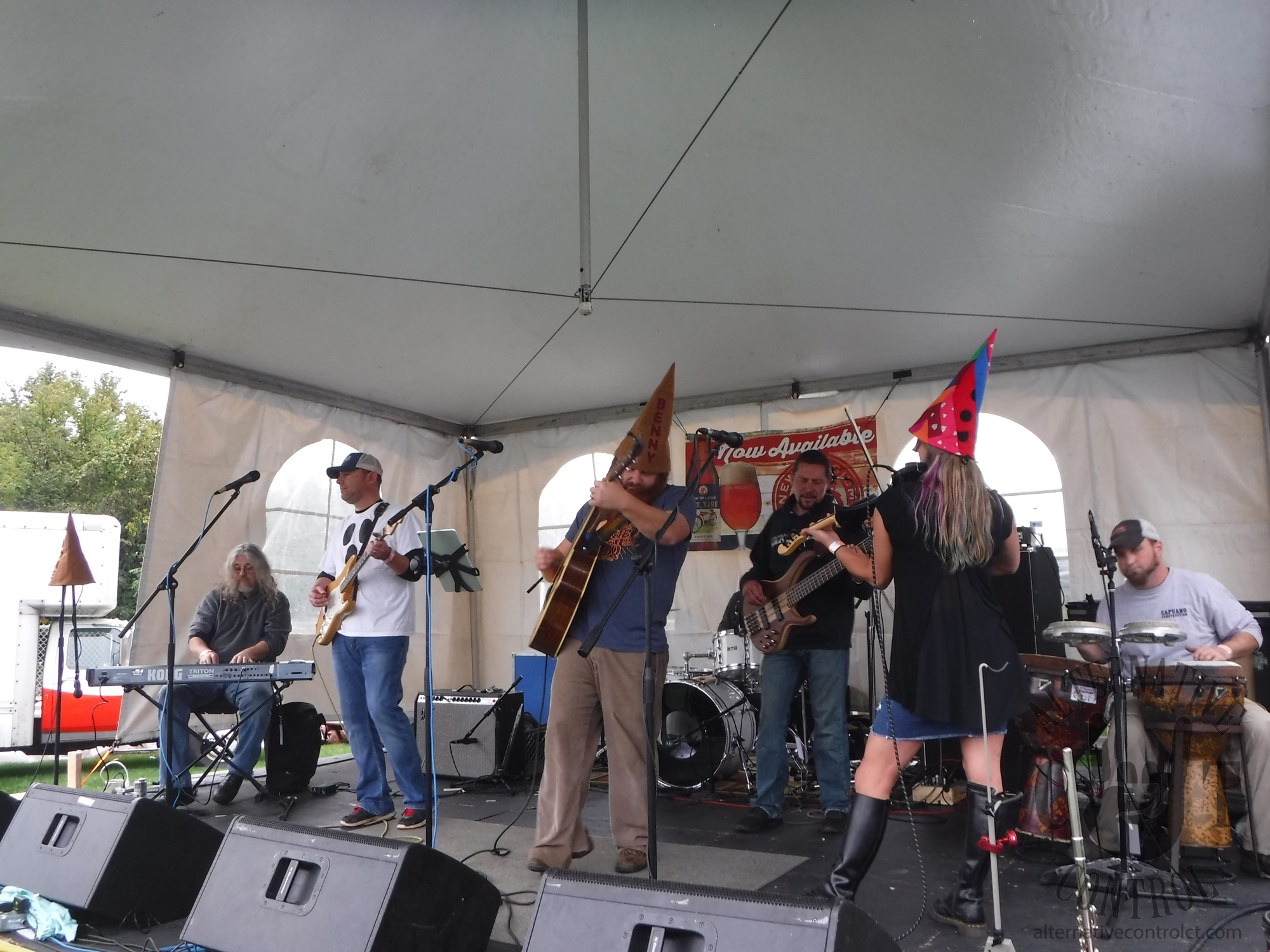 In summation, big thanks to the organizers of SITV and thanks to all the home brewers for offering such an exotic bouquet of brews. I was honestly floored by how many quality brews I sampled, and am very excited to see any and all of these brewers progress and grow. And don't forget to check out my full photo gallery on Facebook.
This article was brought to you by Grimm Lambo Door, Sip of Sunshine, Pipeworks Blood of the Unicorn and Lizard King.