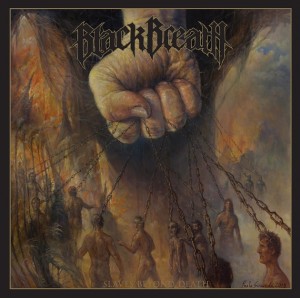 After indulging in the more hardcore side of their pedal-abusing sound on their last album Sentenced To Life, Seattle's favorite sons of darkness have decided to slow things down a bit and play some good old-fashioned fetid death metal. We're talking the type made popular by bands from Sweden such as Entombed and Dismember.
There has always been a touch of these bands in this group of heshers from the Emerald City, but this time Black Breath jettisons most of their "core" tendencies and focuses on their metal side.
The riffs composed by guitarists Mark Palm and Eric Wallace are heavy, filthy, and punishing. In addition, by playing in a more mid-paced tempo, it allows said riffs to hit with maximum force. This is not to say this is a torturous, slow motion slog. There is a nice sense of rock n roll swing to the songs. Their forefathers in Sweden would be proud. It also must be noted that drummer Jamie Byrum handles all the slight shifts in tempo with groove and style, considering he was recovering from being hit by a car during the recording of this album. His drum work is quite stellar on it.
Opener "Pleasure, Pain, Disease" starts out at a quickened pace, but then transitions to a monstrous mid-paced headbanging groove. The title track starts out mid-paced, breaks into a sprint, complete with a manic solo, before ending where it began. "Seed Of Cain" opens with a quietly strummed intro, before giving way to a big, scuzzy riff, going fast, and the going back to a crushing riff breakdown, complete with another face melting solo. "Burning Hate" tips the scales back toward the more hardcore facets of their music.  Closer "Chains Of The Afterlife," a dynamic thrash instrumental complete with shifting tempos and ripping solos, pushes their sound even farther.
Slaves Beyond Death (released by Southern Lord) proves that Black Breath is one the best death metal bands out there today. It's some of the heaviest and most evil sounding rock-infused music you are likely to hear all year. It is the epitome of death-n-roll.
You can stream Slaves Beyond Death at Invisible Oranges and Brooklyn Vegan.  The album will be available for purchase tomorrow (9/25/15) here.
Upcoming BLACK BREATH Tour Dates:
9/23/2015 Boardwalk – Sacramento, CA w/ Goatsnake, Battalion Of Saints, Obliterations [info]

9/24/2015

Catalyst Atrium – Santa Cruz, CA w/ Goatsnake, Battalion Of Saints, Obliterations [info]

9/26/2015

Highline – Seattle, WA – record release w/ Goatsnake, Battalion Of Saints, Obliterations [info]

9/27/2015

 Hawthorne Theater – Portland, OR w/ Goatsnake, Battalion Of Saints, Obliterations [info]
11/12/2013 The Korova – San Antonio, TX @ Housecore Horror Fest kickoff show [info]

11/17/2015

Oakland Metro – Oakland, CA w/ Havok

11/18/2015

Whisky A Go Go – West Hollywood, CA w/ Havok

11/19/2015

The Constellation Room – Santa Ana, CA w/ Havok

11/20/2015

Soda Bar – San Diego, CA w/ Havok