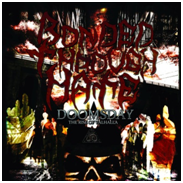 By Jeffrey Miles
It is no secret I have a soft spot for old-school, Swedish death metal.  Bands like Entombed, Grave, Dismember, and Unleashed have always been held in high regard and I'm continually comparing new bands to these greats, most of the time with little success.  Outside of Entrails, this is a style of death metal that is rarely heard in the modern scene and I had relegated myself to this fact while wearing out my 2nd copy of "Left Hand Path."  The release of Bonded Through Hate's debut EP, Doomsday: The Rise Of Valhalla, has rekindled my faith in the city-leveling power of a Boss Heavy Metal stomp box.

BTH is a seven-legged killing machine, eschewing subtlety for a straight-forward, jack-hammer approach.  Although this is the band's first recorded release, the players are no newcomers to the scene, spending previous days in Tyrant Trooper, Slumlord, and Coffin Joe.  The experience is evident in the material; each tune is hacked into an efficient slab of brutality.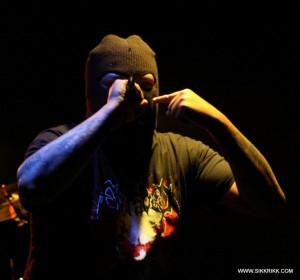 The most obvious Swedish DM influence is derived from rhythm lord Ron Kuczuk's guitar tone.  More chainsaw than guitar, Ron's axe spits out groove-infested riffs that are brutal and sexy in a murder-as-art kind of way.  Drummer Justin Lanteri checks in with a solid performance made much more interesting by the restraint he shows in deploying his double-bass arsenal.  The first three songs feature Lanteri's machine-gun rolls and stick work more than his feet.  The material is allowed to breathe, not swamped under a landslide of kick drum.  On the last two songs, "To Die Or Live" and "BTK," double-bass pounds relentlessly giving the close of an EP a truly apocalyptic feel.  Justin's rhythmic cohort, bassist Aaron Spring, understands his role fully and only plays what is needed to keep the songs racing ahead while locking in with the drums.  Vocalist Allyan "Necrobutcher" Lopes stands out with the versatility of his voice, shifting effortlessly from deep growls to mid-range screams.  Lopes layers his vocals in several places, adding a lot of sonic value to the material; the multi-voiced intro howl to opener "Killing Is My Name" is straight out of George Fisher's decomposing tool belt.
Recorded at Ear One Productions, Doomsday's biggest drawback is the lack of a focused mix.  The bass sits in a nice sonic space, grinding away with resolute clarity, and the kick drums are appropriately punchy.  However, what keeps the rest of the instrumentation from hitting the listener like a steel toe to the dong bag is a tendency to swirl together in a chaotic maelstrom of guitar and inhuman growl — which makes it very hard to follow the busiest sections and takes some effectiveness from the breakdowns.  As a listener I hope the next BTH effort is graced with more clarity in post-production because the band has the songwriting chops to make a solid, hateful statement.  If you prefer Grave to Suffocation and think Dying Fetus should eat Bring Me The Horizon for a mid-afternoon snack, this EP is for you.