Every so often, you get a promo that makes you say, "Man, this is really good" — and makes your husband look up from the couch and ask, "Who's THAT??" Brandy and The Butcher's Dick Circus was one such promo.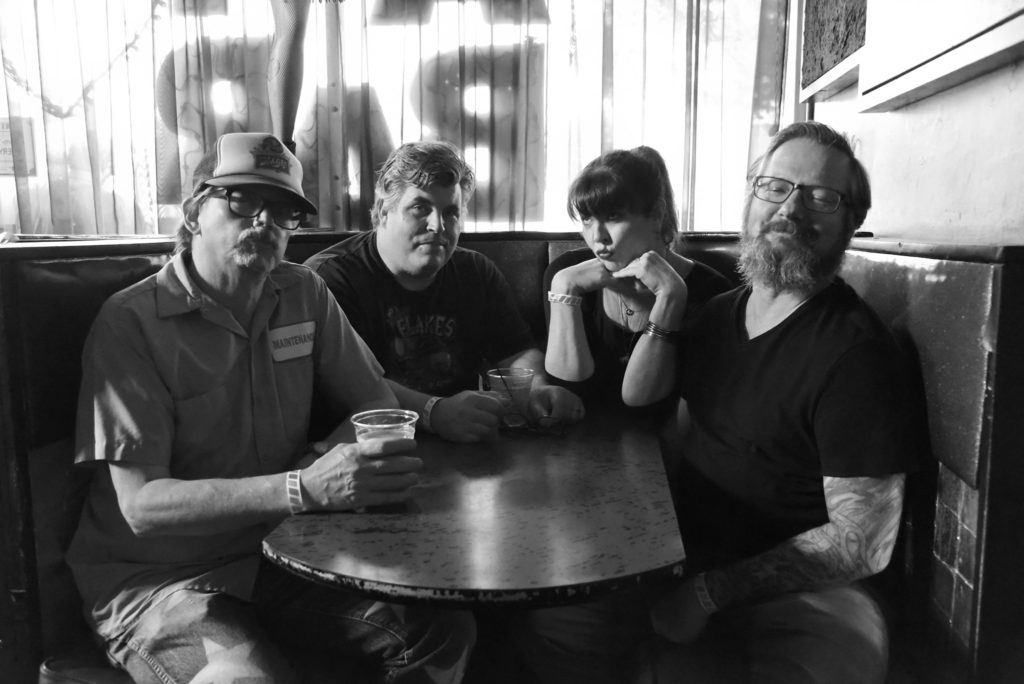 And now Alternative Control is excited to present another single from the South Carolina band's debut album. "Pool Party" is a saucy number full of Whoa-oh's and guitar and bass interplay; Elizabeth Hale's vocal delivery is straight out of your favorite classic punk albums. Listening to this song, I can almost smell the stale cigarette smoke of the hall shows we used to have before coronavirus…. Weren't those the days, banging heads and spilling Coors Lite, all in the same room together.
But enough waxing poetic for the old days before March 2020, I want to cannonball into this pool party! Check out the track embedded below. And don't forget, it's bandcamp Friday — a perfect day to preorder yourself some Dick Circus.
About Brandy and The Butcher
It may be 2020, but South Carolina punks Brandy and the Butcher party like it's 1979. A staple in Columbia's heavy music scene, this outfit channels CBGB's with every stage they step on. After releasing several singles and EPs to many accolades, Brandy and the Butcher is now putting out their debut LP Dick Circus on August 21st, 2020.
The band got started in 2018 when longtime friends Jay Matheson (guitar) and Kevin Brewer (drums) resumed jamming together after Brewer retired from the Army. Brewer, who had served in combat roles and then as a full-time Army Musician, called up his fellow gun-slinging Army Musician Roger Shattuck (bass) to join them. Now the guys just needed a singer…
…Who they found in the incomparable Elizabeth Hale. A "Jill of all trades," the brash confidence that served Hale well in professions from lumberyard worker to strip club owner has translated impeccably to fronting Brandy and the Butcher. Drawing on influences like The Stooges, Sex Pistols, The Cramps, Suzi Quatro, MC5, and The Runaways, the band began writing throwback punk and new wave music that quickly garnered a following in the Carolinas.
They released their first digital singles, "Earthquake" and "Pretty Girl," in late 2018, followed by the Pretty Girl EP in August 2019 featuring artwork by Laura Pleasants of Kylesa. Shortly after, they put out the "Carolina Uber Allies" single and video in late 2019 and then "Flim Flam Man" in March 2020 (again with artwork by Pleasant). All Brandy and the Butcher's material is engineered by Matheson at The Jam Room Recording Studio, where he has recorded hundreds of groups including Kylesa, The Queers, Black Tusk, and Baroness.
And now the band is preparing to unleash Dick Circus this August, as the country (hopefully) emerges from quarantine. They hope to play more live shows up and down the East Coast after having their first tour cut short by the coronavirus pandemic. Keep an eye out, because Brandy and the Butcher's Dick Circus could be rolling into a dive bar near you!
Connect with Brandy and The Butcher
Band photo courtesy of Dewar PR. For more from Alternative Control, find us on Facebook, Twitter, Instagram, Soundcloud, and bandcamp. Plus, follow our 2020 coverage playlist on Spotify!