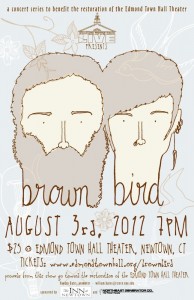 By Amanda Bloom
Originally published in The Mercurial, 7/30/12.
The Edmond Town Hall Theater, on Newtown, Connecticut's historic Main Street, is well-known for its two dollar movies, the annual Lathrop School of Dance Stardust Review, and it's Great Depression-era architectural charm. In my youth, I had a floor hockey birthday party in Edmond's lower level gymnasium, and in seventh grade, my classmates and I trekked from the middle school to the theater for a science field trip screening of Contact, the 1997 Jodi Foster and Matthew McConaughey deep space exploration movie.  I also recall a friend and I dunking our heads in an ice-filled drink trough during a classmate's teenage birthday party in Edmond's elegant Alexandria Room.
A more recent, and more notable, memory of the theater is from last June: the premier staging of "Live at the Edmond Town Hall" (Live at ETH), a music series hatched by Newtown resident Hayden Bates.  The Low Anthem, Brown Bird, and Daniel Lefkowitcz were on the bill, the house was packed, and the show was stunning.  In an interview, Bates said he intentionally put Brown Bird on last so the theater was filled for the dark, rootsy folk duo's performance.  Those who had come to see big-name indie folk rockers The Low Anthem were blown away by Brown Bird, and the pair is coming back this Friday, August 3 for Bates' third Live at ETH endeavor.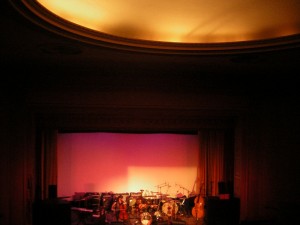 "It was incredible," Bates said of the response people had to Brown Bird's performance.  "So many people said [Brown Bird] had to come back immediately."
Now for another memory: when MorganEve Swain joined Newtown High School's chorus, circa 2002.  Swain, who plays violin, cello, double bass, and sings as one half of Brown Bird, was a violin playing legend at Newtown High and was already a staple in the school's orchestra.  Everyone knew she had a promising future of music ahead of her, and she joined the chorus to work on her vocal abilities.  Swain had a husky alto voice and blonde hair reaching all the way down her back.
Fast forward to this past weekend, when Swain played alongside bandmate David Lamb on the main stage at the Newport Folk Festival.  Her hair is dark and cropped short, she's covered in tattoos, and her matured, resonant vocals are expressive, almost haunting, and entirely unique in their melodic structure.
With a home base in Providence, Rhode Island, Swain and Lamb, who sings and plays guitar and/or banjo while keeping time with a customized floor kit of kick drum, wood block, and tambourine, are touring and making music full time.  Listeners will find that Brown Bird can't quite be compared to any other band; the duo's songs are rife with changes in rhythm, other worldly harmonies, sharp lyrics, and erudite songwriting.  Salt for Salt, their 11 track fall 2011 release, features simple folk structures in tracks such as "Ebb & Flow" and "Bilgewater" alongside more complex pieces such as the stormy, reeling instrumental composition "Shiloh".
Though Bates has primarily featured folk acts in Live at ETH thus far, he assures that diversity is the goal of the music series.  When he booked Bill Frisell for the second series this past March, Bates was looking forward to a jazz show; however, Frisell happened to be touring with folk artist Sam Amidon, and Bates ended up with another folk-flavored concert.
Bates says he wants to feature jazz, rock, solo artists, and classical music in future shows, the next one taking place sometime in January or February of next year.  And Bates' dream act?  Rock band Wilco's frontman Jeff Tweedy.
"I want to bring Wilco to Edmond without bringing Wilco to Edmond," he said.  "Each member of the band has their own solo project."
Bates, a financial advisor and guitar, mandolin, and bass player originally from Wilton, moved to Newtown three years ago and fell in love with Edmond after seeing Wes Anderson's The Fantastic Mr. Fox at the theater.  Inspired by the success of venues like the Ridgefield Playhouse and the Bardavon Opera House in Poughkeepsie, New York, he got the idea to book "here and now and up and coming" music acts at Edmond.  Additionally, 100% of the proceeds from Live at ETH raises goes towards the theater's restoration.
Bates explained that the 526 seat theater needs new lighting, structural restoration, new balcony chairs, and a new electrical system – the theater doesn't have enough power for his concert series and needs a generator to fill in the wattage gap, supplied by Live at ETH sponsor Northeast Generator in Bridgeport.  The proceeds from Bates' concerts will fund the purchase of certain "cash cow" technologies for the theater, such as a Blu-ray player and a new sound system, which will hopefully expand the theater's capabilities and its customer base.  Bates said he expects to be able to make those investments with Friday's show.
The Proud Flesh, a folk rock band based in New Haven featuring another Newtown native – guitarist, trumpeter, and singer Patrick Dalton – will be joining Brown Bird at Friday's Live at ETH.
For tickets, visit edmondtownhall.org.  The show begins at 7pm and tickets are $25.
Edmond Town Hall is located at 45 Main Street in Newtown.  For more information, contact Hayden Bates at [email protected].