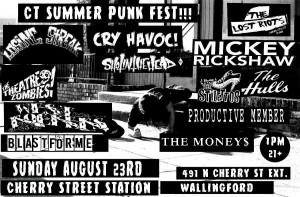 By Matt Mullarkey
It's that time of the year again in New England. Days where the temps hover between the 80s and 90s, the humidity sticks to your skin like napalm, and your electric bill is through the roof from cranking the AC day and night.
So what better way to spend one of those dog days at one of CT's BEST venues for punk, metal, and hardcore?
The 2015 CT Summer Punk Fest will be taking place Sunday August 23rd at Cherry Street Station in Wallingford.  Jeffrey Thunders, lead singer of New Haven's The Lost Riots (which I play bass for, *cough*), has organized what is sure to be the show of the season (with MUCH help from Jonny from Cry Havoc!, Joaquin from Losing Streak NL, and Sarah Andrade from Cherry Street).
Doors open at 12:30pm and bands will be playing up to close at 10pm on two stages, inside and outside.
This year's lineup: Losing Streak NL, The Lost Riots, The Theatre Zombies, Cry Havoc!, West Rockers, The Hulls, SHOT IN THE HEAD, Blastforme, Mickey Rickshaw (Boston), J.Prozac & The Stilettos (western Mass.), Productive Member, The Money$, and Welter (Philadelphia).
The show is strictly 21+ and a mere $5.00 at the door. Come early and stay late. You'll be deaf by the end of the night (and possibly drunk), but it'll be f*ckin' worth it.
https://www.facebook.com/events/722716461184162/