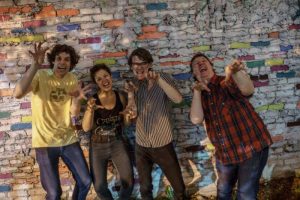 Washington, DC heavy rockers Caustic Casanova are preparing for a late summer tour that will take them across the United States.  Says the band,
"We're so excited to hit the road for our longest North American tour since 2016 (and our new guitarist Jake Kimberley's first coast-to-coast run). We'll be bringing you all the prog, stoner metal, psych, and noise rock you can handle, at irresponsible volumes each night, for nearly 2 months. We'll be playing very new songs, an old song or two, plus tunes off our forthcoming Magnetic Eye Records debut God How I Envy The Deaf, out this October."
Tour Dates
8-7 Chapel Hill, NC at Local 506
8-8 Greenville, SC at Radio Room
8-9 Johnson City, TN at The Hideaway
8-10 Lexington, KY at Best Friend Bar
8-11 Nashville, TN at Springwater
8-12 Memphis, TN at Pagan Mom House
8-13 Wichita, KS at Kirby's
8-14 Saint Louis, MO at The Sinkhole
8-15 Lawrence, KS at Replay Lounge
8-16 Denver, CO at Tennyson's Tap
8-17 El Paso, TX at Neon Rose
8-20 San Diego, CA at Tower Bar
8-21 Long Beach, CA at Que Sera
8-22 Oakland, CA at Elbo Room
8-23 Pacifica, CA at Winters Tavern
8-24 Sacramento, CA at Cafe Colonial
8-27 Portland, OR at Tonic Lounge
8-28 Seattle, WA at High Dive
8-29 Post Falls, ID at Cruisers
8-30 Great Falls, MT at The Back Alley Pub
8-31 Kalispell, MT at Old School Records
9-2 Rapid City, SD at The Cave Collective
9-4 Milwaukee, WI at Walkers Point Music Hall
9-5 Chicago, IL at Livewire Lounge
9-6 Youngstown, OH at Westside Bowl (Black Out Cook Out Festival with Inter Arma, Big Business, Child Bite, Brain Tentacles, Ken Mode, Lo-Pan and more)
9-13 Shepherdstown, WV at Shepherd University
9-14 Winooski, VT at Monkey House
9-15 Montreal, QC at Piranha Bar
9-20 Bloomington, IN at TBA
9-21 Dubuque, IA at The Blu Room
9-23 Louisville, KY at Highlands Tap Room
9-24 Indianapolis, IN at Healer
9-25 Columbus, OH at Dirty Dungarees
9-27 Brooklyn, NY at Gold Sounds Bar
About Caustic Casanova
Since forming as teenagers at the College of William & Mary in 2005, heavy rockers Caustic Casanova have experienced their fair share of ups and downs. Having weathered lineup changes, life threatening injuries and relentless DIY touring, the group's highly eclectic sound has made them a favorite in a crowded scene. Stereo Embers wrote of the Washington, DC based upstarts: "Caustic Casanova is one of the most excitingly innovative bands on the planet…the band's at home in psych, prog, metal, punk, and seemingly every other genre in the galaxy."
2013 saw the band almost fall apart when drummer/vocalist Stefanie Zaenker endured serious injuries to her wrists that put her ability to drum in jeopardy. However, Caustic Casanova persevered, and by 2014, Zaenker, alongside bassist/vocalist Francis Beringer and guitarist Andrew Yonki, had opened for sludge titans Kylesa and were signed to their label, Retro Futurist Records, allowing them to take things to the next level. The band toured heavily in support of their critically acclaimed 2015 LP Breaks, slugging it out both with Kylesa and on their own. Between 2013 and 2018 they also released a trio of EPs for their Pantheon series, where they paired original material with classics by Pentagram, the Melvins and Weedeater. This hard work led to nominations for multiple Washington Area Music Awards in 2019, as well as a deal with Magnetic Eye Records, who will release their next album, God How I Envy The Deaf, on October 19th.
As the band looks to the future, they've already begun recording the next album with their longtime producer J. Robbins (Jawbox) at Magpie Cage Recording Studio in Baltimore. Newly a four piece with the addition of guitarist Jake Kimberley, this relentlessly loud band is excited to see what sonic alchemies their genre mashing and off the wall songwriting will conjure up next. Road hardened rock and roll warriors through and through, Caustic Casanova plan on showcasing their "muscular, riff-roaring, bass-fuzzed blend of metal and hard rock, flavored with doses of noise and stoned psychedelia" (Creative Loafing) all across the world in 2019 and beyond.
Connect With Caustic Casanova
For more from Alternative Control, find us on Facebook, Twitter, Instagram, Soundcloud, and bandcamp.