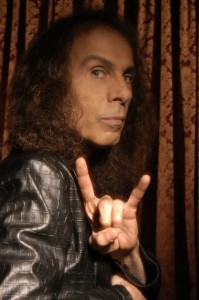 When Ronnie James Dio was diagnosed with stomach cancer in late 2009, his wife Wendy said to the press, "After he kills this dragon, Ronnie will be back on stage where he belongs, doing what he loves best, performing for his fans."
But one day we all will meet a foe we cannot defeat.  Dio passed away in May 2010, leaving a fifty-year musical legacy behind him.  As one of metal's most powerful vocalists, he's best known for his work in Rainbow, Black Sabbath, Heaven and Hell, and his own band Dio.
Shortly after his death, Dio's family founded the Ronnie James Dio Stand Up and Shout Cancer Fund to further cancer prevention research.  Connecticut music lovers will have a chance to support that foundation at the Chords for a Cure benefit show, August 3rd at Cherry Street Station in Wallingford.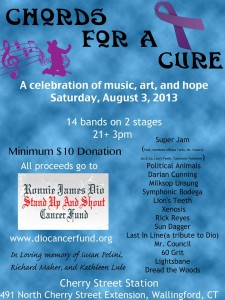 Organized by Mark Lyon, guitarist of Xenosis, Mr. Council, and probably nine other projects, the concert will begin at 3pm and feature fourteen bands on two stages.  Lyon explained that the daytime will be a mix of genres, but it's metal once the sun goes down.  "I've done a handful of benefit shows before and they really bring artists together," said Lyon.  "It's not about money – it's about performing and helping a good cause."
Lyon is especially looking forward to some of the musical collaborations that will take place.  The outdoor stage is being headlined by "Super-Jam," featuring members of Brass Tacks, Mr. Council, Jus & Company, Lion's Teeth, and Tomorrow Tomorrow – he didn't want to reveal too much, but we hear there's a horn section involved.  Fittingly, there will also be a Dio tribute with "quite a few people sharing vocal duties, including some great R&B singers."
Lyon added that "Cherry Street is one of the most supportive venues for local music around."  He hopes to have a great turnout and raise a lot of money for Stand Up and Shout.  See the Facebook event for more details as they are announced – this is not a show to miss!