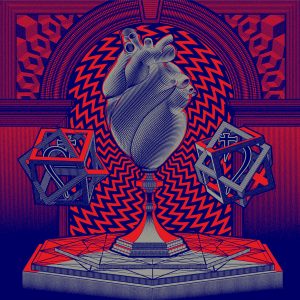 Social media is bad about 90% of the time. I'm not sure if that's close to a real statistic, but it's the way I feel — though there's that personal 10% of positive connection that results in healthy new perspectives and discoveries. I was perusing Instagram one day to see that someone I followed had posted a picture of his new vinyl purchase. I loved the front cover, and when he explained it as the debut from an Icelandic black metal band, my bias for Icelandic music of all kinds got the better of me. I decided to give it a chance and I'm very glad I did. Thanks to social media, I've found a strong contender for AOTY.
Heart of Lead isn't a traditional black metal album. Those looking for something akin to the vicious Satanic fury of Mayhem or the minimalistic wilderness expanse of Burzum won't find either in mutually exclusive fashion. But Kaleikr do infuse their sound with a significant helping of both those black metal schools. Their riffs flirt with horrific fury when conceptually appropriate; their atmospheric expanse enwraps the listener like a gradually descending lightning cloud. Even if it doesn't always feel like a black metal record, the spirit remains epic and evil.
What separates this record from the pack is its tasteful penchant for progressive surprises. It's clear from the get-go that the band doesn't roll with one idea for too long. But they also don't allow progressive tendencies to render their music a medley of underdeveloped bullshit. Instead, they decorate very carefully composed songs with gradual emotional growth.
These songs are multi-faceted exercises of empathy and devotion to the musical black arts, and they take many different subgenre avenues to cathartic darkness. Even so, I didn't expect to hear minor detours into djent on "Internal Contradiction." I was blown away by the inspired and heroic melodic power of "Neurodelirium." Kaleikr don't resort to softness and light-and-shade measures to give their progressive music a rich dynamic. It's all about tempo-change, dramatic riff development, black prog fusion, a tartness in whatever cooldown moments the album ventures into from time to time. The title track does feature a fair amount of mellowness, but it's uneasy and twisty and opens the possibility for cataclysmic climax, which it delivers.
The vocals are a nonmelodic but convincing comparison to the Mikeal Akerfeldt death growl. One could pretend this is an Opeth rebirth, albeit with the sinister spirit and extremity of black metal. This comparison helps build a bridge between them and more established extreme progressive metal heavyweights like Enslaved, Gojira, Ne Obliviscaris, and Blut Aus Nord to name a few examples. I think any fan of those acts would appreciate a band that could possibly fill the hole Opeth left in the genre. Give Heart of Lead a serious listen. You'll be hard-pressed to find a classier and more confident debut this year.
For more from Alternative Control, find us on Facebook, Twitter, Instagram, Soundcloud, and bandcamp.