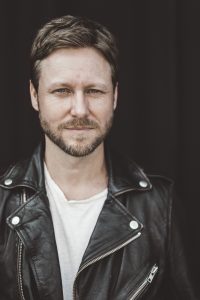 Cory Branan performs a rule breaking form of alt country that draws from other genres such as rock, punk and folk. He has five critically acclaimed albums to his name with the most recent one being Adios, which came out in 2017 on Bloodshot Records — and his sixth album, No Hit Wonder, is due out August 19th.  In 2014, Rolling Stone listed him as of their 10 Artists You Need To Know. But beyond the accolades, Branan is a songwriter whose lyrics cut right to the chase, weaving stories about love, loss and everything in between. Just check out any of his five albums and you'll see this testament to his talent.
He's also a dedicated road dog, relentlessly touring, taking his music to the people. In this case, he'll be playing a show with fellow Americana rule breaker Amigo The Devil at the Webster Underground in Hartford on Thursday, July 25, so we thought this would be a perfect time to send him some questions and get his opinion on a variety of subjects including his background in metal bands growing up, the nature of his music and his thoughts on our fair state, among other subjects. (He'll be playing solo at this show.)
For those of you who like your roots music a bit twisted, he's your guy — so don't miss out on this chance to catch him in an intimate venue such as the Underground.  
When you were younger, you played in a bunch of metal bands, as well as playing country. Do you think there are similarities between metal and country? If not sonically, then in other ways. How so?
Ha. I just played guitar for any band that would have me. I'd say the direct connection between the two is a certain level of guitar virtuosity (though I was no virtuoso).
Your music is rooted in the country/singer/songwriter tradition, but you're not afraid to mess with tradition on your albums, from bringing collaborators from rock and punk bands (Dave Hause, Laura Jane Grace) by adding different kinds of music to the country template. Why do you do this? And do you think it's important for artists to color outside the lines of their respective genres? 
Can only speak for me, but the only thing that interests me is being an artist. All the labels get slapped on by other folks. Nothing wrong with that, but marketing ain't my bag. Probably would have more of a big "C" career if it was.
When you perform it's usually as a solo act, but you've also experimented with using a band at times. Why did you decide to do this? How is having a band different from the way you usually perform? (besides just the number of people involved.) Do you get something different performing with a band than you get as a solo artist? 
I love playing with a band but alas, fiscal necessity calls for a lot of solo work. I'm a working musician so I take a band when the shows are band money. Pros and cons of both. Hearing and feeling the songs fully fleshed is amazing — but so is not having to vote on where to eat lunch.
As a follow up, what do you enjoy out of performing as a solo act? 
Playing solo is working without a net so I get to turn on a dime, change it up mid thought, play the room, let the song play me…
This tour that is taking you to Connecticut features two people who started out in metal and then moved on to "rootsier" music. Was it both your similar backgrounds in metal that brought this tour together? Do you usually perform with more country performers, or is it with a mixture of bands, sort of like your tour compatriot this time around? (I know he sometimes will play with metal bands or at metal fests.)
Honestly I never know how the tours come together (somebody's pool boy's mother's cousin talking to some bookie's agent) — I just go where the work is. Genre is rarely a consideration- just gives me a heads up if I'll be pissing in a club with a stall door or not.  This one seems fun though (both kinds of stalls).
Have you ever been to Connecticut before? If so, how was the experience? If not, what can we expect at this upcoming show? 
Oh yeah — I love Connecticut! Spent a lot of time in the New London area when my buddies from The Quiet Life were living there. I also get my guitar pedal fix when I pass through Bethel and visit Analogman. As for expectations — I'd come expecting full mind melt. I like a high bar.
What is next for you? I heard you have a new album coming out soon. 
I wish. Got a stack of 50 plus songs raring to go. These damn ducks just ain't in a row. Yet. Likely cut this winter and put out in spring 2020.
Catch Cory at the Webster Underground on July 25th and preorder The No Hit Wonder here.
Featured photo by Joshua Black Wilkins, courtesy of Bloodshot Records. 
For more from Alternative Control, find us on Facebook, Twitter, Instagram, Soundcloud, and bandcamp.