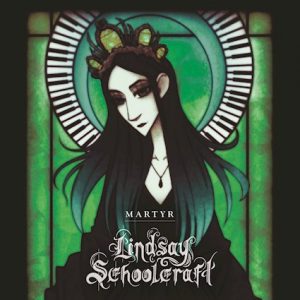 At the risk of getting flack for defying "Trve Kvlt Black Metal" standards (try me, I proudly played black metal for years,) let me begin by saying that I do enjoy Cradle of Filth. I think we even have a review of their last tour up here on Alternative Control, hint hint! More specifically, I have always appreciated the talent among its members past and present, which includes connections spanning from Anathema and Dimmu Borgir, to Brujeria and At the Gates.
Lindsay Schoolcraft, CoF keyboardist extraordinaire, not only continues this trend, but also demonstrates her exquisite approach to music on her debut solo album, Martyr. The self-released album, co-written by former Evanescence drummer Rocky Gray, sews epic seeds in a gothic garden. Indeed, the balance between Schoolcraft's background in extreme music and Gray's work in a Grammy Award winning band presents an album with something for everyone.
Beginning with "Saviour," an immediate vibe akin to Epica hits the ear, combining driving guitars and lush keys before perfectly transitioning to the next track entitled "Dangerous Game." A haunting, Lacuna Coil-esque atmosphere takes shape on "Stranger" and "Into the Night." There are even nods to My Dying Bride and Dream Theater on "Blood From A Stone" and "Remember" respectively, with a harp solo, performed by Schoolcraft, perfectly placed at the center of the latter track.
Reminding us that this is still a metal album, "See the Light" brings back the heavy with guest vocals from Ne Obliviscaris frontman Xenoyr. Following the piano ballad "My Way Without You," Martyr closes out with a tip of the hat to the masters of moody themselves with a cover of "Lullaby" by The Cure. Replacing the groovy bass line and 'walking in the rain' feeling of the original, the ambience of the track feels like something you would listen to while exploring an abandoned hospital at sunset.
If Nightwish gets too operatic for you, Evanescence is too mainstream, and your vision of Lacuna Coil is one with only one vocalist, give Martyr a spin. If Schoolcraft decides to take this show on the road, I could see it going one of two ways. First, it could be an act opening for any of those bands, as well as Trivium and Septicflesh. Second, the lack of an exclusively extreme metal tone would allow the group to support hard rock units like Breaking Benjamin and Skillet.
Bottom line: Lindsay Schoolcraft not only honors the legacy of her predecessors in CoF, but is clearly her own artist with many talents. Rocky Gray, while having served in a commercially successful band, at no point adds too much of the same formula, allowing each song to breathe and stand on its own. If this album were to hit the charts, it would be without a doubt thanks to the talent of the duo behind it.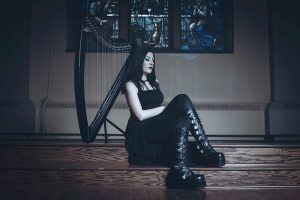 Connect With Lindsay Schoolcraft
Review copy and featured photo courtesy of Dewar PR.  All opinions are our own.  For more from Alternative Control, find us on Facebook, Twitter, Instagram, Soundcloud, and bandcamp.