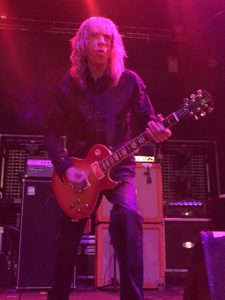 It's often said of Diamond Head that they didn't get their dues when they first deserved them — but this NWOBHM band who inspired the likes of Metallica and Megadeth is certainly enjoying a renaissance in the twenty-first century.  Alternative Control had the opportunity to speak with guitarist and co-founder Brian Tatler before the band embarked on a late summer North American tour.
Our conversation began with teenage Diamond Head — what were the guys listening to when they composed songs that would help launch a musical movement?  "Of course there were the standards," Tatler said.  "Black Sabbath was the main band.  Led Zeppelin, Rush, Deep Purple, Thin Lizzy, Judas Priest… I was big into prog, too — bands like Genesis, Pink Floyd, Gentle Giant…"
Tatler was also influenced by the London punk movement of the 1970s.  "Punk rock was a big part of my upbringing.  It exploded in the UK when I was 16.  Before punk rock, it was like you had to be this amazing musician, get a record deal…  Now you'd just book a gig at the local pub, make your own record for 500 pounds, and off you go.  A lot of the energy and speed of the early Diamond Head songs comes from punk."
Four decades later, that energy hasn't waned.  In addition to Tatler, Diamond Head's lineup now includes vocalist Rasmus Bom Andersen, guitarist Abbz Abberly, bassist Dean Ashton, and drummer Karl Wilcox (who drummed for DH from 1991-1994).  Their camaraderie was clear on stage at Psycho Las Vegas, although Abberly was absent; DH's August 19th performance, early in the day, was one of the most memorable of the entire weekend.  After the likes of Sumac and Conan, it was refreshing to hear some good ol' fashioned smiling, guitar-soloing, air-guitar-with-the-mic-stand heavy metal.  The young audience members might not have known all the songs, but they were fans by the end of the set.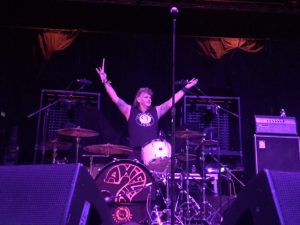 Having a great frontman certainly didn't hurt.  Tatler found a powerful singer in "Ras," who probably wasn't alive during Diamond Head's first go-around.  "He's been in the band four years," Tatler said.  "Ras is perfect for the band, his voice really suits (us)."  Far from a group of hired guns playing "the music of," this version of DH put out a self-titled album in 2016 and has a new one in the works for next year.  Their songwriting process is collaborative: "I seem to be coming up with guitar riffs," said Tatler, "then I demo them on Pro Tools,  flesh out the idea, and present it to the band," at which point the song is fine-tuned "over a matter of months.  Vocals come fairly late in the process," he continued. "Ras writes the lyrics."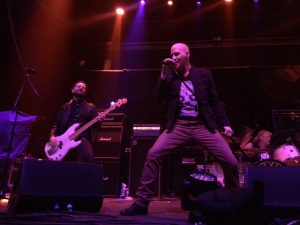 The band might look different at Psycho Las Vegas 2017 than it did at the England's Redding Festival in 1982, but it exists because Tatler never gave up on his love of music.  During DH's hiatuses, he worked at a recording studio and played in professional cover bands.  In fact, he felt that learning hundreds of other people's songs over the years has improved his own songwriting craft. But Tatler hasn't been sitting back learning covers for quite some time — DH has been active since 2000, making this the longest uninterrupted run of the band's lifetime.  "Hey, the big bands are still doing it," Tatler said.  "Music is what I do best and it would be a shame to stop."
I, for one, am glad he didn't.  You can catch Diamond Head at one of the dates below: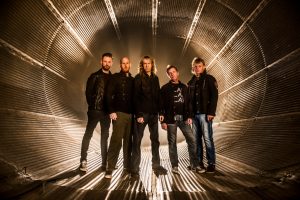 Upcoming Tour Dates
8/26 — Victoria, BC @ Logan's Pub
8/27 — Vernon, BC  @ The Green
8/28 — Calgary, AB  @ Dickens
8/29 — Edmonton, AB @ The Forge
8/30 — Saskatoon, SK  @ Capitol Music Club
8/31 — Winnipeg, ON  @ Park Theater
9/2 — Sault Sainte-Marie @ Canadian Nightclub
9/3 — Sudbury, ON  @ The Asylum
9/4 — Toronto, ON @ Coalition
9/5  — Windsor, ON @ Backstage
9/6 — Ottawa, ON @ The Maverick
9/7 — Quebec, QU @ l'Anti
9/8 — Jonquière, QU  @ Salle 4 Barils
9/9 — Montreal, QU  @ Wings of Metal Festival
9/10 — Liverpool, NY @ Sharkey's
9/11 — Brooklyn, NY @ Saint Vitus
Check out our band and crowd pictures from Psycho Las Vegas here.  And for more from Alternative Control, find us on Facebook, Twitter, Instagram, Soundcloud, and bandcamp.