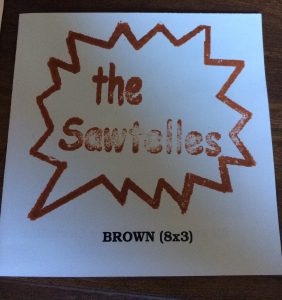 The Sawtelles are one of Connecticut's most prolific bands, with 13 self-released albums as well as a few on D.I.Y labels.  The husband/wife act performs on a variety of instruments — banjos, ukuleles, guitar, and drums — and are just not exclusively limited to any one instrument. The Plantsville-based band just put out yet another album, Brown (8×3).
If there is a outdoor festival they could most likely be playing it.  Basements?  Yep, they've played 'em.  The old El n Gee?  Yep, there too. I've had the pleasure to not only know them for over 10 years, but to work with them on many shows at places like the Wrench in The Works, El N Gee, Eclectic Wear, The Annex, and more. When I know I'm going to be seeing them play, I get a warm feeling like being home. It's hard to describe any other way.
This album is eight solid tracks long, a peaceful glide through the soft memories in my mind. There is a level of sadness and wisdom in the songs. Do not mistake it for a emo album, this is a strong force of recollection, wisdom to be passed on. I relate to songs like "Lose Her" and "Accident" (which was originally a song played on a banjo). "Consumption had gotten the best of me" is a line that speaks to us all. The twinge of regret and a sprinkle of forward thinking encompasses Brown (8×3).
On this album RJ Brown played Guitar and Saxophone, Peter is on vox and guitar as well, and rounding it out is the ever electrical Julie doing drums and vox. Heads up if you've seen them before Julie accually sits at the drums now, no more standing.  For more information on their music and upcoming shows, visit The Sawtelles' website and Facebook page.  Also, check them out on December 16th at Grady Tavern in Manchester with The Ratz and more.
For more from Jeff, visit Against All Odds Productions.  And for more from Alternative Control, find us on Facebook, Twitter, Instagram, Soundcloud, and bandcamp.