by Nikita Alekseyevich Khrenov
As awful as 2020 has been to everyone, at least we have new music from Soilwork to ease the pain, even if it's only momentarily. These guys have been cranking out high quality melodic death metal for over two decades and judging by this EP, they're not slowing down anytime soon.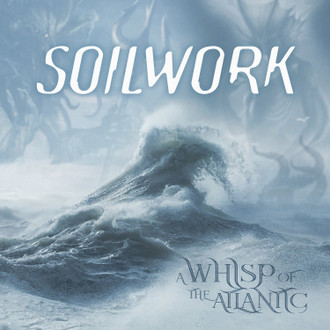 A Whisp of the Atlantic starts with the title track, an ambitious 16-minute beast that perfectly encapsulates what makes Soilwork the powerhouse they are. Gentle piano leads the listener in before straightforward heavy metal power chords take them under. The song ebbs and flows much like the ocean itself, with raging blast beats and tremolo picking assaulting the listeners ears as Björn "Speed" Strid shows off his extensive vocal capabilities. He moves from soulful singing to demonic screams and everything in between, with a few Halford-esque high screeches just for good measure.
The following four tracks are more of the delicious Swedish melo-death we know and love. "Feverish" juxtaposes blasting drums with more reserved guitars riffs creating a uniquely intense dynamic that just hits that perfect sweet spot while "Desperado" keeps up the ferocity but throws in sweet 80s style synth flavor crystals just to spice things up a little bid. "Death Diviner" dials things back a little bit with loads of groove and traditional metal riffage. The closing track really throws it back to the 80s with an opening section to rival Iron Maiden themselves, but it still retains that signature Soilwork sound.
With this EP the band shows no sign of stopping anytime soon. The creative juices are flowing in excess and judging by the songs on this record alone, they are of the finest quality.
A Whisp of the Atlantic will be released on December 4th, 2020 via Nuclear Blast Records. Order your copy here.
---
Review copy courtesy of Nuclear Blast and Secret Service PR. All opinions are our own.
For more from Alternative Control, find us on Facebook, Twitter, Instagram, Soundcloud, and bandcamp.  Plus, follow our 2020 coverage playlist on Spotify!
Enjoying our content? Support the site on Ko-fi and Patreon!