In just our second Nerd Talk with an Australian musician, JB from young Sydney rockers Starcrazy takes over this edition. Read on to find out about the movies, books, and video games that have inspired him!
Favourite Movie: The Lion King (1994) 
For me, this is the definitive Disney movie. Part of it is that we go a long way back, like a couple of decades. But the biggest part of it is that through all of that time, it's just always a transfixing experience. It's the combination of the fleeting 2D animation, incredible voice acting and Hans Zimmer's amazing music that makes me love it so much. Also, who doesn't like James Earl Jones?
Of all of the scenes in the movie (SPOILER), the most addictive one is definitely when Scar announces that both Mufasa and Simba have died and that he'll ascend to the throne. It's the end of that scene, when all of the hyenas walk in and start laughing as the shot pans out. Combining the laughs with that epic part of the music score has always managed to chill the hell out of me!
If I knew somebody who's never heard of Disney and they wanted to get into their movies, this  would be my first recommendation. 
Favourite Book: Long Hard Road Out of Hell (Marilyn Manson Autobiography, 1998)
I personally am not an avid reader but this autobiography is one of the few books that gripped me. I mean, I've been a Marilyn Manson fan for years but reading this book opened my eyes to some pretty unnerving yet fascinating experiences, especially those during the recording of Antichrist Superstar. It's definitely one worth reading for any rock fan, authored with the same co-writer of The Dirt, Neil Strauss.
Favourite Video Game: Crash Bandicoot: The Wrath of Cortex (2001 – PlayStation 2)
While I don't play many video games nowadays, sometimes I like to get on my PS2 and relieve my mind. The first game that comes to my head is almost always this one. Even though a lot of people would say it's a watered-down version of Crash: Warped, it's closer to my heart. 17 years of playing this game and it still doesn't get old because everything about it is amazing!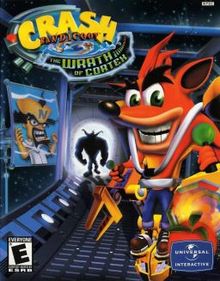 In my opinion, music has just as much of an ability to make or break a game as the gameplay, and  I honestly prefer the music of this game over Warped any day of the week. Andy Blythe and Marten  Joustra gave absolutely every level a distinctive soundtrack which other Crash composers haven't, and I LOVE the arrangement of all of the synthetic instruments into all of the individual  soundtracks, some of which I could honestly envision hearing at a 2000s rave! lol….
Also, Clancy Brown, Mel Winkler, R. Lee Ermey, Jess Harnell, Mark Hamill!! Where can you go  wrong?? If I were to recommend one game to any PS2 owner, it's this one.
Check out Starcrazy's recent video for the single "Long Way Home" and find their tunes on many streaming platforms!
---
For more from Alternative Control, find us on Facebook, Twitter, Instagram, Soundcloud, and bandcamp. Plus, follow our 2020 coverage playlist on Spotify!
Enjoying our content? Support the site on Ko-fi and Patreon!