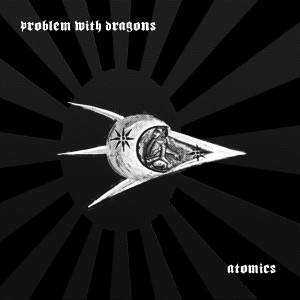 A reader just turned "us" (me) on to stoner rock trio Problem With Dragons and I'm really enjoying their 2012 EP Atomics.  Hailing from Easthampton, Massachusetts, these guys deliver fuzz-laden anthems in manageable 3-4 minute chunks.
The EP opens with "Wanting," catching the listener with a doomy hook almost immediately.  That guitar riff builds gradually, joined by pounding bass and a chanting vocal line.   The song sets the stage for what follows on the rest of the album: straightforward, rockin' lines that are just "out there" enough not to get boring.
Title track "Atomics" reflects a strong grunge influence, with repeated lyrics that are at times Cobain-esque — and I mean that in a good way.
"Space Duel" ventures into the stoner metal arena, alternating rock riffs with gallop picking and guttural vocals.  And "Failures" benefits from thoughtful arrangement and a subtle chorus that contrasts with the song's heavier parts.
Closing track "Toast" is the EP's longest and its most philosophical.   Who is watching us from above?  How will humanity end?  "Ours is not to question… Ours is not to understand… None shall be spared…"
Problem with Dragons is embarking on a West Coast tour next month and I'm sure they'll leave an impression on audiences.  If it sounds this good on my couch, imagine what it's like at midnight with a beer in hand!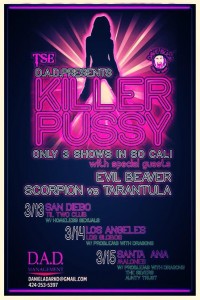 Upcoming Shows
3.13.15 Double Down Saloon Las Vegas NV
3.14.15 Los Globos Los Angeles CA
3.15.15 Malones Concert Venue Santa Ana CA
3.16.15 Climax Bar Modesto CA
3.17.15 The Golden Bull Oakland CA
3.18.15 San Jose Rock Shop San Jose CA
3.19.15 The Press Club Sacramento CA
3.20.15 The Arena Bend OR
3.21.15 Club 66 Ashland OR
3.23.15 El Corazon Seattle WA
3.24.15 Hawthorne Lounge Portland OR
3.26.15 Leo's Music Club Oakland CA
3.27.15 The Hideaway Sacramento CA
3.29.15 Rogue Bar Phoenix AZ
3.30.15 The Merrow San Diego CA