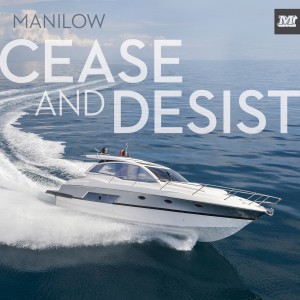 Sorry, Manilow, I will not Cease and Desist, your EP is way too much fun. The opening track "Missing" immediately made me think of the classic "movie-montage" featuring lots of story told only with moving pictures as the music perfectly punctuates the action. And the cover of the EP, with a speedboat racing a la Miami Vice or Hawaii 5-0 to find the missing girl is the perfect visual.
Post-punk/power pop trio is how the band is described and that's a pretty accurate fit. The recording lacks the usual, "I taped this in my shed (which I also live in) on a cassette" sound that punk EPs tend to have. The music is polished and full, a wall of sound that you really want to dive into.
The second track "Law Here" was a bit of a slow down, but I have a feeling that seeing it live would bring the energy that it needs. I can see groups of drunk fans singing along. "Control Issue" and "Vitamins return" to the "gotta move" punk groove and don't disappoint. "Vitamins" in particular has some killer guitar solos.
Post-punk/power pop, where have you been all my life? This is a sound that I can get behind and this is definitely a band to keep your eyes and ears on. They're located in South London for now, but I have a feeling these guys will hit it big. They have the chops, they just need their music to get out there. Do your part and take a listen. Manilow's Cease and Desist is available on SoundCloud and Bandcamp.
This post was sponsored by Independent Music Promotions.  All opinions are our own.