Alternative Control is pleased to present a genre-defying single from NYC artist Skulk, The Hulking: "He Who Finishes First is Finished First."  This klezmer-rap-on-speed track shows just one side of this wacky urban orge….
To hear the rest, make sure to pre-order Skulk's upcoming album Afterbirth of a Nation, coming out December 14th.  This third studio offering represents Skulk, The Hulking's evolution from a solo project to an actual band; now joined by grindcore veterans Ashley Levine (guitar), Fernando Morales (drums), and avant-garde rocker Vern Woodhead (bass), Skulk is ready to take the world by storm.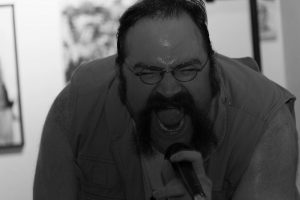 Afterbirth Of A Nation was recorded with jazz drummer Rob Mitzner, and mixed by Scot Moriarty at Backroom Studios in Rockaway, New Jersey.  Featuring updated versions of the ogre's past work presented in an aggressively mature new light, Afterbirth elicits both terror and laughter.  With music videos and a podcast of Skulk's lore on the horizon, Skulk, The Hulking is making not just music but mythology — and you heard it first on Alternative Control.
Pre-order here: https://skulkthehulking.bandcamp.com/album/afterbirth-of-a-nation
Check out Skulk's AltCtrl Nerd Talk here: https://alternativecontrolct.com/books/nerd-talk-with-skulk-the-hulking/#.W_xrp-hKhPY
Connect with Skulk, The Hulking
Facebook
Twitter
For more from Alternative Control, find us on Facebook, Twitter, Instagram, Soundcloud, and bandcamp.