Seattle punk three-piece Prison returns with Come, Annihilation, a heavy, sarcastic six song EP for cynical assholes and longhairs alike. Prison's brand of hardcore is a sweaty mix of metal and punk informed by Bad Brains, Burning Love, Karp and Melvins, with panicked riffing and tongue-in-cheek lyrics that embrace death's crushing inevitability. Come, Annihilation is a searing indictment of the arbitrary binary of Western morality. And you can pit beef to it. It's the fucking end of the world. Who lives? Who dies? Who cares?
Come, Annihilation will be released on March 29th.
1. Into the Pit
2.Who Lives Who Dies Who Cares
3. I Do Not Value Life
4. I Welcome Death
5. We Live in Filth
6.The Smell of Flesh
Prison is:
Zack – Six string death knell, forked tongue invocation
Gwen – Satanic thundercull
Kris – Apocalyptic skin persecution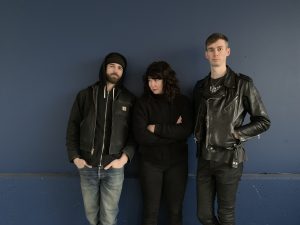 https://www.facebook.com/pg/prisonseattle/
https://prison.bandcamp.com/
For more from Alternative Control, find us on Facebook, Twitter, Instagram, Soundcloud, and bandcamp.