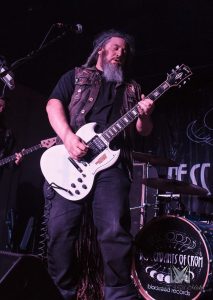 The blog is excited to have Erik Caplan of Thunderbird Divine show us his patches!  The singer, guitarist, and theremin player for this Philly stoner rock outfit has an interesting theme to his current battle vest, and is also leading the way for a new generation of patch enthusiasts.  Be sure to catch Thunderbird Divine on Day 3 of New England Stoner Doom Fest!
I started wearing patched and self-decorated jackets and vests when I was in high school during the late '80s. Back then, I had a worn-to-threads denim jacket full of my friends' artwork and signatures. One of my friends did a dead-on drawing of all four Led Zeppelin symbols from the fourth album across the back of the jacket. I was pretty proud of that.
The jacket was a conversation piece for sure, and I wore it well into college. I eventually gave it away to someone at a party who looked cold.
Since then, I've had an assortment of patched-up vests and jackets. I've worn most of them onstage at one time or another, and I have been fortunate enough to be involved in music for about 28 years. Sweaty stages and rock shows are not kind to denim, so most of my older vests have bitten the proverbial dust. Some have become unwearable rotten piles of threads. Maybe there's something ultra toxic in my sweat.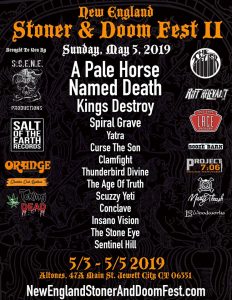 In more recent years, I decided I wanted to create a somewhat different vest. Interestingly, finding a plain black denim vest is somewhat of an art these days. The bigger name brands either don't seem to make simple denim vests, or, if they do, they're bizarrely expensive.
My most recent vest, which I started patching up back in 2013, is a no-name $10 rag I found in a giant clothing discount store. It's lightweight, the right color, fits well and didn't break the bank. Perfect.
I decided to go with primarily art patches on this vest — no band logos, comedy or text patches. While sporting one's favorite acts in patch form on a battle vest is a time-honored tradition in rock and metal, lately I've felt this practice can be a little on-the-nose. "Oh, you play doomy, riff-based, '70s-influenced rock… and you have a Black Sabbath patch on your vest. Huh. Never saw that coming."
Having said this, I respect and honor the whole culture of battle vests. I love the idea of metalheads masquerading as average folks but having a form of denim armor to differentiate themselves from the squares with a secret code of images to identify themselves and others of their kind. It's a beautiful undercurrent of mainstream society.
But I digress, as I have been known to do.
In the interest of not wearing my musical influences on my actual clothing via my patch choices, I started looking around for badass stuff to add to my vest. I landed on a handsome devil, a wild boar, a handmade vintage air force patch from a thrift store and a giant demon back patch. I think they're all pretty striking and evocative. Of course, in the process of my search for the best patches, I bought a few that didn't make the cut. I imagine they'll wind up on my next battle vest. I'm actually pretty excited to start that one.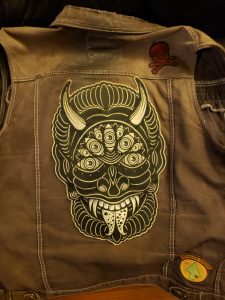 Mixed in with the patches are a number of odd buttons and patches–a British air force patch, a sasquatch, a Loch Ness monster, a white panther. I try to collect those wherever I find them.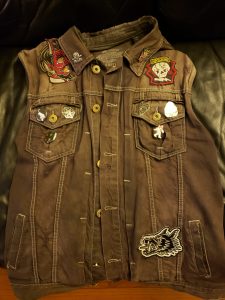 The funny thing about getting into this activity (Or hobby? Can a hobby be metal? Discuss…) is that the people closest to you can get swept up as well. For example, my son, who is 10 years old, saw my vest and thought it looked cool. He's not a musician, but he's really into Pokemon. Fast-forward a few days, and I've ordered a couple of Pokemon patches (a Poke ball and a Pikachu), and the boy had a solid Pokemon battle vest.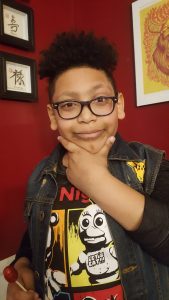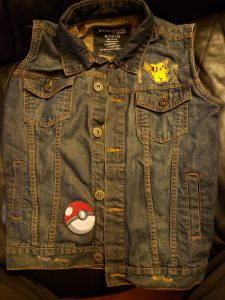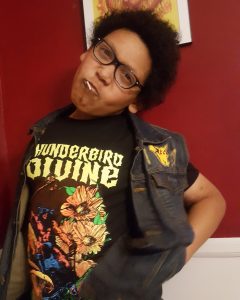 That's my patch story. Thanks for inviting me to share.
Connect with Thunderbird Divine on Facebook, Instagram, and bandcamp.
Regional readers, wear your best battle vest/jacket/fannypack/underpants to the New England Stoner and Doom Fest Pre-Party Bash for the Battle Vest Contest on May 2nd at 33 Golden in New London!  Winner gets a prize pack from Alternative Control, Salt of the Earth Records, and SCENE Productions.  Tickets available here.
For more from Alternative Control, find us on Facebook, Twitter, Instagram, Soundcloud, and bandcamp.