Hey, friends!  Are you in a band?  Do you want people who aren't your friends to listen to your band?  I will let you in on a little secret….  Most underground bands that break out of their local scenes hire public relations services of some kind, or end up on a label who DEFINITELY provides or outsources PR services.  I have ten years' worth of press releases in my inbox to prove it.  Where do you think we get all the music we review before it comes out?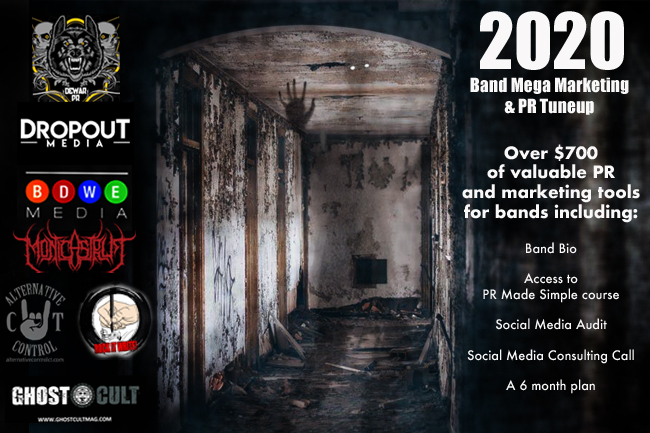 The cost of PR services will vary and oftentimes you get what you pay for.  PR is not the same as advertising because there is no guaranteed result (at least not if your publicist is honest and you're not paying for placements) — all the PR in the world won't make journalists review terrible music.  A combination of good music, good PR, and an active social media presence is what will get you the attention of listeners, reviewers, and perhaps even labels.
And now you can have good PR, a rockin' bio, and effective social media and marketing strategies all for free!  The good music is up to you, but enter below to win the rest of the stuff from Dropout Media, Monica Strut, Rock It Write, Dewar PR and BDWE Media.  One lucky band will receive the following services:
1 Custom Band Biography,
Access to a DIY PR Course for Bands,
1 Social Media Audit and Report,
1 Social Media Consulting Call (via Skype/Zoom)
1 Six-Month Marketing Plan For Your Band
#WOW is right.  That's valued at over $700.  Sign up for your chance to win!
Please note: You are joining the mailing lists of BDWE Media, Dropout Media, Monica Strut, Rock It Write, & Dewar PR. You may opt-out at any time.
Flier by Jim Clegg.  Contact him for artwork and graphic design needs.  For more from Alternative Control, find us on Facebook, Twitter, Instagram, Soundcloud, and bandcamp.  Join our mailing list here.