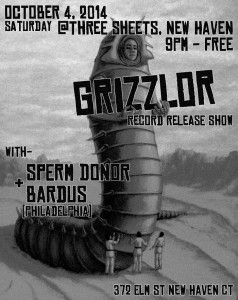 These bashers from New Haven will unleash their new 7″ on the world this Saturday, October 4, with a show at Three Sheets that includes local buds Sperm Donor and Bardus, from Philadelphia. It will be an epic night of loud, noisy rock. You won't want to miss it.
Grizzlor's new 7″, "When You Die" (Money Fire), takes what the band has done before and refines it even further. That's if you could say the music they play is refined, which it isn't. It's loud, ugly and exciting.
"No Time" opens with a careening bass line and some corrosive guitar, along with some crazed speak screaming and finishes in a concise 1:23. It's a perfect reintroduction to the band. From there, "Plaster Cowboy" picks up the pace a bit, making sure there is plenty of punk in their noisy rock, while "Stoned" is a big, ugly, beautiful and knuckle dragging beast of a song. "Mini Spaceship" closes it out with another concise blast of venom.
So, you'll definitely want to be down in the Elm City this Saturday for this show. Make sure you save a little of your beer money for a copy of this new 7″. You'll want to own it.
In addition, this show proves that there are loud rock alternatives waiting to be discovered in our state. Be down or be lame.